Smush Parker fires back at Kobe Bryant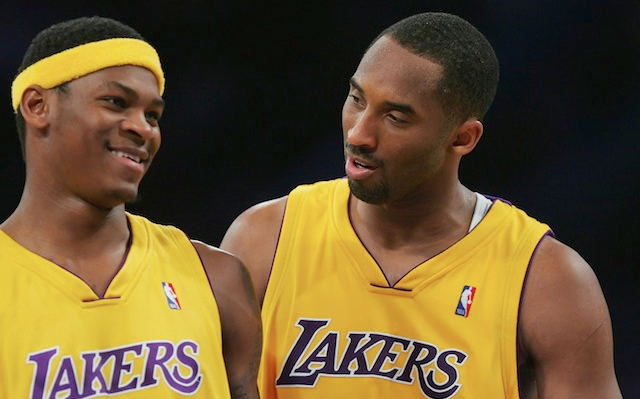 It's Smush Parker's turn on the mic.
(Getty Images
That's right, a second Smush Parker post.
After getting trashed and called "the worst" by Kobe Bryant, Parker had a response.
"I'm lost for words," Parker told Hard 2 Guard Radio, via a transcription by Larry Brown Sports. "It makes me blush. For my name to still come out of that man's mouth? It makes me blush."
Fun fact that Parker shared: At one point, he intentionally quit passing Bryant the ball during his second season with the team.
"The reason I wasn't a Laker after my second year is because I didn't bow down to [Bryant]. I didn't kiss his ass. I wasn't kissing his feet," Parker told Hard 2 Guard. "Quite frankly, towards the end of the second season, I stopped passing him the ball. I stopped giving him the ball. I started looking him off."
Parker, who is about to begin his third season playing in China, told a story about a road trip during which the team went to dinner and Bryant sat in a corner booth by himself and said Bryant would spend his time on road trips with his security guards.
"I had a workout with the Lakers, beat all the guards out for the starting position, earned a spot on the team," Parker told Hard 2 Guard. "Midway through the first season, I tried to at least have a conversation with Kobe Bryant -- he is my teammate, he is a co-worker of mine, I see his face every day I go in to work -- and I tried to talk with him about football. He tells me I can't talk to him. He tells me I need more accolades under my belt before I come talk to him. He was dead serious."
Parker's issue wasn't and has never been about Bryant's game -- that is undeniable. Parker's problem was with the person.
"You can't knock the man's legacy; you can't knock what he's done in basketball," he said. "His work ethic is tremendous. There's not an ounce of hate in my blood whatsoever. The guy can play basketball; you've seen that throughout his career.
"What I don't like about him is the man that he is. His personality. How he treats people. I don't like that side of Kobe Bryant.
"Basketball is a team sport. It is team-oriented. It is not an individual sport. It's not tennis or golf. It is a team sport. When you are the star of the team, you have to make your teammates feel comfortable. You have to make them feel welcome. And he did not do that at all."
Bryant might have called Parker "the worst" but statistically, he really was kind of decent. In 2005-06, Parker averaged 11.5 points, 3.7 assists and 3.4 rebounds per game while shooting nearly 45 percent from the floor. In 2006-07, he put up pretty similar numbers.
Comparitively, during Derek Fisher's best season statistically with the Lakers (2000-01), he averaged 11.5 points, 4.4 assists and 3 rebounds per game while shooting 41 percent from the floor. Of course, there's the whole chemistry and leadership thing. But just talking raw stats, Parker measured up to Bryant's favorite point guard.
"Kobe Bryant says I'm the worst point guard, that I should have never made it into the NBA -- he just frowns at the thought of me playing in the backcourt with him. Like Jay-Z says, people lie, numbers don't. Just go to the stats," Parker said. "If I don't deserve to play in the NBA, why am I third on all the stat sheets on the Lakers team those years? I'm top three in all the categories."
I hope this never ends. Your turn, Mamba.