Knicks guard J.R. Smith expected to play Friday
J.R. Smith has been recovering from offseason knee surgery, but will likely return to the Knicks' lineup on Friday.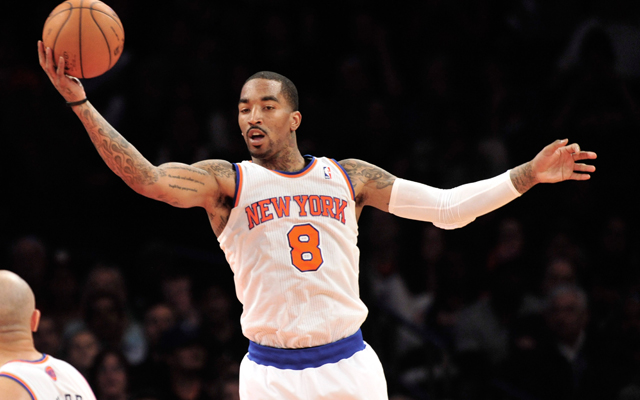 After recovering from offseason knee surgery, J.R. Smith is "ready to go" for the team's final preseason game on Friday, Knicks coach Mike Woodson says. However via ESPN NY, the team will wait until Friday to make a final decision. 
The Knicks will open the season Oct. 30 against the Bucks.
There have been questions of if Smith would be ready for the season opener, but by all appearances, he would be. After he's cleared by doctors, he'll have to serve a five-game suspension for violating the league's anti-drug policy. 
To be eligible to serve the suspension, Smith has to be cleared by doctors and deemed physically able to play. So even if he wasn't entirely ready to start the season, at least making it appear so, so that he can get the suspension out of the way is a wise move by the Knicks. 
Smith signed a three-year, $18 million extension in the offseason with the Knicks after winning Sixth Man of the Year. However, almost immediately after signing, Smith underwent knee surgery to repair a torn lateral meniscus, which caused some controversy. 
Smith, 27, averaged 18.1 points and 5.3 rebounds last season.
The point guard's unhappiness reportedly helped lead to his eventual trade request

Even Floyd Mayweather weighs in on the war of words between the two stars

The three-team deal would have also shipped Kevin Love to Denver
Ball wasn't happy about a foul call, swore at a referee and took his team off the floor

Jared Sullinger wants back in the NBA; he knows his weight will play an important part

Cleveland is one of Rose's biggest suitors, and the Irving situation could lead to an even...