NBA fines Glen "Big Baby" Davis $35K for flipping off fans
The NBA has fined Orlando Magic forward Glen Davis $35,000 for flipping off Toronto Raptors fans.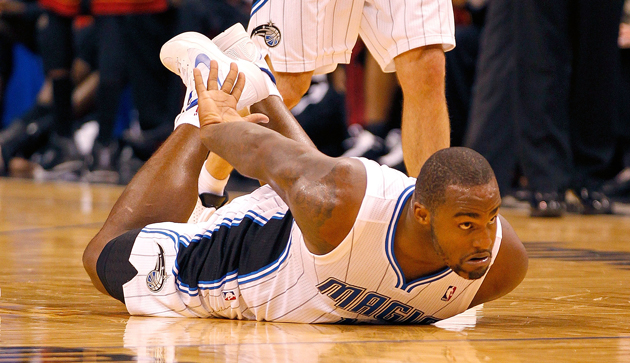 Glen Davis was fined by the league for flipping off Toronto Raptors fans.
(Getty Images)
Big Baby extended his big finger skyward and the NBA has responded in kind.
On Wednesday,
the NBA announced
that Orlando Magic forward Glen Davis had been fined $35,000 for flipping the bird to Air Canada Centre fans during a 117-101 win over the Toronto Raptors on Monday night. The league termed his act an "obscene gesture".
Davis finished with 13 points, 7 rebounds and 1 asisst on 5-for-8 shooting in 23 minutes against the Raptors.
Back in January, Davis was
issued a technical foul
for taking off his shorts during a game against the San Antonio Spurs. Davis was also
suspended by the Magic for two games
in February for an outburst during a team shootaround. 
Davis, 26, is averaging 7.6 points and 4.6 rebounds in 21.7 minutes per game off Orlando's bench this season.
Griffin and the Clippers are at a crossroads

"He left because he wanted to be with James Harden," the Los Angeles coach said

The Warriors have shown that simply putting talent together isn't enough
Hayward will be in Miami this weekend, while Utah and Boston also have meetings scheduled

Sacramento signs Serbian to 3-year, $36 million contract while passing on Ben McLemore

Free agency is around the corner, which means there could be a ton of significant moves coming...