Capitals' Alex Ovechkin to miss NHL All-Star Game because of injury
Capitals forward Alex Ovechkin will sit out the NHL All-Star Game after being diagnosed with a lower-body injury.
The NHL's All-Star Game is going to lose some of its luster as one of the league's biggest stars will not be in Nashville anymore. Alex Ovechkin, the captain of the Washington Capitals and the fan-voted captain of the Metropolitan Division team for the new 3-on-3 All-Star tournament format, will miss the big event because of a lower-body injury according to the Caps.
More from the team's statement:
Alex Ovechkin will miss the 2016 NHL All-Star Game due to a lower-body injury that would be better served by rest. The decision was made in consultation with Ovechkin and the Capitals front office, coaching and athletic training staffs.

"We made this difficult decision after taking into consideration what we felt was best for Alex and our organization," said Capitals general manager Brian MacLellan. "Alex has been an incredible ambassador for our team and the league, but we believe it is better if he uses this time to heal and ideally be completely healthy for the duration of the season."
Because he will miss the All-Star Weekend with an injury, Ovechkin will also have to sit out the Caps' first game after the All-Star break on Feb. 2, by NHL rules.
The announcement came after Ovechkin played 19:58 of Washington's overtime loss to the Philadelphia Flyers earlier Wednesday. He had six shots on goal and one penalty in the contest.
Additionally, Ovechkin said that his decision to go out and shovel the heavy snow that fell in the D.C. area last week may have contributed to the aggravation of an existing injury.
Ovi said he aggravated the injury cleaning up after the snowstorm. "I was cleaning some snow on my house. It was my bad decision."

— Katie Brown (@katiebhockey) January 28, 2016
The Capitals captain also said he wanted to focus on being ready for the rest of the season.
This season, Ovechkin has appeared in 46 games. He is second in the NHL with 28 goals and has 42 points.
The NHL has not named a replacement for Ovechkin, but one has to wonder if Pittsburgh Penguins captain Sidney Crosby is on the top of their wish list. He was not voted in by fans or selected by the league, but has been on fire of late. If not him, then Ovechkin's teammate Evgeny Kuznetsov deserves a long look. He's leading the Caps in scoring after all.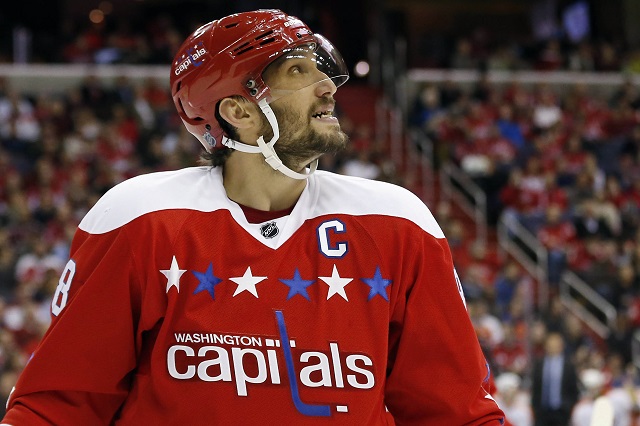 Show Comments
Hide Comments
Our Latest Stories
Team Europe will be without one of their top forwards against Canada

Try not to look him directly in the eyes

Canada and Europe will meet for the second time in the tournament, this time with everything...
The Bruins have their high-scoring, opponent-agitating winger locked up long term now

The team no one gave a chance is moving on to the World Cup's championships series

Defense prospect Patrick Sieloff drew the ire of his teammates after his hit on MacArthur