NHL decision on 2018 may come in six months, World Cup soon
While the NHL players compete in the Olympics, some wonder if they'll return in 2018. A decision could come in six months. Meanwhile, a World Cup call is coming.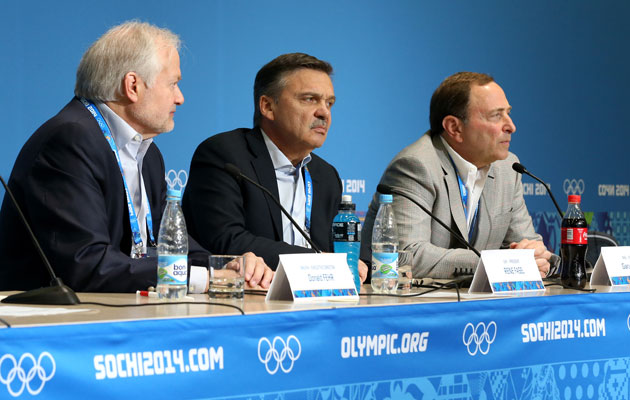 More NHL: Scores | Standings | League Leaders | Odds | Injuries | Power Rankings
While hockey fans enjoy every minute of this Olympic hockey tournament in Sochi, it's hard to ignore the distinct possibility that this is the last time we see NHL players in the Olympics.
The NHL's participation in the Olympics is always a hotly contested issue, especially when the Games aren't in North America as will be the case again in 2018 when the Olympics head to South Korea. Flyers owner Ed Snider made his position known and it was hardly favorable toward the Olympic Games; the league and its teams get very little benefit if any.
It's why Gary Bettman and the NHL have been talking about a return of the World Cup of Hockey, which at this point seems certain to happen. That was reaffirmed when Bettman, NHLPA head Donald Fehr and IIHF President Rene Fasel spoke in Sochi.
Other news: Fehr indicated official World Cup announcement is coming in the not-too-distant future...

— Elliotte Friedman (@FriedgeHNIC) February 18, 2014
Most have assumed that this means the NHL would be done with the Olympics and the World Cup would be a replacement for an international best-on-best tournament that right now only the Olympics truly provides. Nevermind that it's nearly impossible to replace the Olympics, it would be something that the NHL would have more say in and just as importantly, it wouldn't overlap with the NHL season.
However one might not preclude the other. No decision has been made yet on 2018 even if the World Cup is all but a go at this point, the Olympics aren't out of the question yet. It doesn't seem likely but the game isn't over.
Bettman said a decision could very well come in the next half year regarding 2018 but it won't be coming now. It hasn't been a conversation in Sochi. He also explained the ongoing thinking.
"I don't want to get into what the pros and cons are for participating," Bettman said. Everybody knows them, and they've been debated ad nauseam. We are here because we think it's great to be here today at this tournament. What comes next we'll all have to figure out, as we've done each of the other times that the NHL players have participated."
Nearly everybody who isn't involved in team management loves the NHL in the olympics. Heck, even Red Wings GM Ken Holland is still in favor of the NHL being in the Games. And we all know how the players feel about it.
With the NHL in the Olympics, hockey has truly become the sport of the Winter Games. The question is if that will be the case again in Pyeongchang four years from now. We'll find out
Show Comments
Hide Comments
With the playoff field cut in half, the stakes keep getting raised

Green has led Vancouver's AHL affiliate since 2013

Series schedules, results and updates from the second round of the Stanley Cup race
Here's how to stay on top of all of the NHL's second-round playoff series, which begin Wed...

Series schedules, results and updates from the first round of the Stanley Cup race

Ottawa took a 3-2 decision to send Boston home, and Washington outlasted Toronto, 2-1