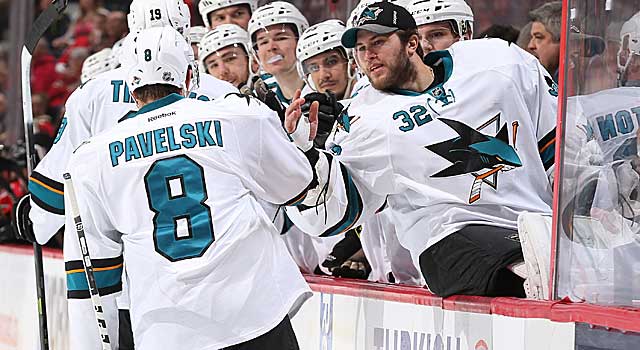 Reality is starting to set in for a number of teams as the schedule shows fewer games for gaining necessary ground to make the playoffs. Six teams are mathematically eliminated, while six more are getting close.
Perhaps no team feels the burn of missing the postseason more than the San Jose Sharks. Though not officially dead, San Jose has a 1.1 percent chance of reaching the Stanley Cup Playoffs, according to SportsClubStats.com. Back in February, the Sharks had a better than 86 percent chance of getting in. Their decline has been dramatic.
Since the beginning of February, the Sharks are 8-14-1. In losing four of their past five, the Sharks have been outscored 19-10. Right before that, there was public sparring between GM Doug Wilson and onetime captain Joe Thornton. If the season wasn't already lost, but the lack of bite after the spat -- which both maintain is resolved -- sealed the Sharks' fate.
Entering play Tuesday, the only Western Conference teams behind the Sharks were are the Oilers and Coyotes. Granted there's 25 points between San Jose and 13th-place Edmonton, but the standings are no less jarring and point to the Sharks missing the playoffs for the first time in 10 years.
In fact, in this franchise's 23 seasons, the Sharks have missed the playoffs only five times times before this season. It's a shocking turn of events for a team that finished 2013-14 with 111 points and at one point had the Los Angeles Kings down 3-0 in the playoffs.
But that's where the problems originate. Losing that series led to comments about rebuilding on the fly from Wilson and curious offseason moves, putting this team on a path to disappointment.
Maybe there's something deeper we don't see on the outside, but this is a team that had the talent to be better. Now they'll have plenty of time to think about what happens next.