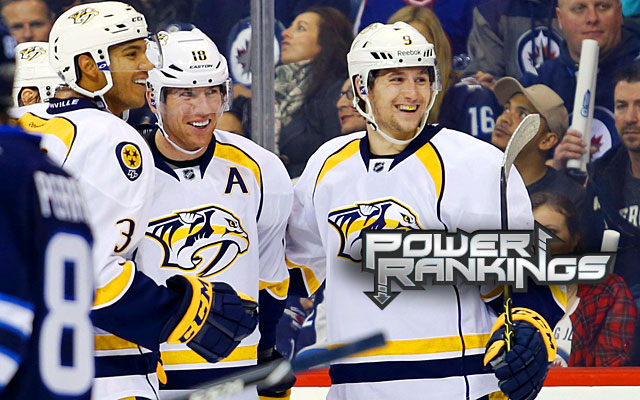 With not quite two full weeks in the books, it's still too early to make sweeping proclamations about Stanley Cup contenders, but the picture is sure starting to get clearer as more teams get their legs under them and start clicking.
Perhaps one of the biggest surprises of the year to date, however is the Nashville Predators. The club has yet to lose in regulation over five games so far. With new head coach Peter Laviolette starting to get his new system implemented, the Predators are a bit more fun to watch as they start to open things up offensively.
Even as the Preds start getting more from their forwards, they are still very much a team built from the net out. Pekka Rinne has been fantastic in his first four appearances, posting 92 saves and a .948 save percentage to the tune of a 3-0-1 record to start. Carter Hutton even performed well in a losing effort against the Chicago Blackhawks.
As expected, Shea Weber remains an offensive leader for the team with three goals and four points in his first five games. With Weber's ability to produce, the Preds have always had nice scoring depth provided from the blue line. They've needed more from the forwards though as Weber has too often been leaned on and has been the offensive leader.
A big key to this season is getting more out of their dynamic young players. So far, Filip Forsberg has been delivering with five points through his first five games. It's not just the young guys getting in on the act, though.
New additions Mike Ribeiro and Derek Roy have also helped chip in offensively, while the Preds have gotten three points from Craig Smith and a surprising four points from Eric Nystrom.
Expecting the Preds to keep up with the hot start they've had is asking a lot. They've gotten exceptional goaltending and it's hard to say if the balanced scoring they've gotten so far will hold up.
Laviolette has seemingly helped bring the change he was hired to bring. This is a team that is a little less predictable and a little more balanced in general. They'll have to stay that way if they want to hang around in the incredibly tough Central Division.