NHL rumors: Cody Franson might be put on trading block by Leafs
The Maple Leafs are running out of cap space with a few players left to sign so one might have to go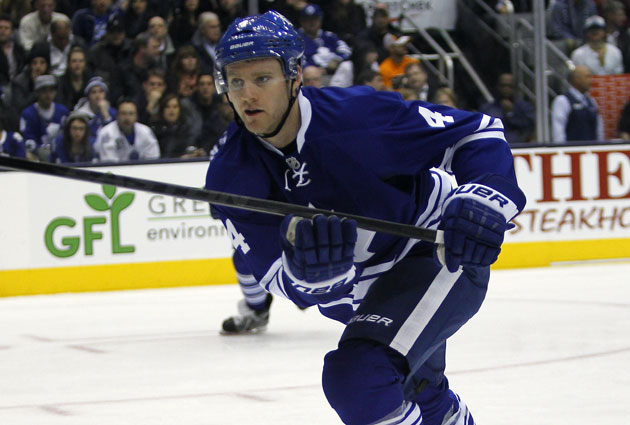 More NHL offseason: Rumors | Top 50 Free Agents | Buyout Tracker | Trades | Transactions
The Toronto Maple Leafs are feeling the heat of the salary cap with a little more than $6 million of free space to sign restricted free agents Nazem Kadri, Mark Fraser (who filed arbitration) and Cody Franson.
It doesn't look like there's going to be enough money to spare to re-sign all three of them so that means somebody has to be the odd man out. Darren Dreger notes it looks like it will be Franson.
Franson trade speculation will heat up. Leafs would like to keep him, but $$ is too much. Prospect and draft pick fair return?

— Darren Dreger (@DarrenDreger) July 26, 2013
And here the Leafs go again.
Franson is still a young defenseman. He's about to turn 26 but has just four seasons of NHL time under his belt and right now is coming off his most productive offensive campaign of his career despite the short season. He had four goals and 25 assists for the Leafs in helping them reach the playoffs for the first time in a long time. For comparison's sake, David Clarkson, he of the huge offseason deal, had 24 points last season in three more games.
What makes it all the more head-scratching is that the Maple Leafs just signed veteran defenseman Paul Ranger to a $1 million deal. If that ends up being the reason the Leafs can't afford to re-sign Franson and go the trade route, that will surely make Leafs fans happy.
To be fair, Dreger notes that Franson's asking price is around $4 million, a high number at this point and certainly one the Leafs can't entertain if they want to keep Kadri (and of course they do).
A reminder: The Leafs just signed GM Dave Nonis to a five-year extension despite being on the job for half a year and all of his moves taking place this summer before we have seen the results.
Show Comments
Hide Comments
Our Latest Stories
The Penguins' leader in highlight reels has been extra feisty on some cringe-worthy cheap shots...

2017 SAHP NHL Global Series will pit Ottawa and Colorado against each other in Stockholm

Finland has churned out some winners in a league filled to the brim with diverse players
From the Caps' goaltender to the star-studded headlining duo of Chicago's offense, these guys...

Scoring his 41st goal of the year in a 3-1 win over the Buffalo Sabres, the Pittsburgh Penguins...

A nightmare comes to life with Gary Bettman downplaying the idea of sending NHL stars to South...