Report: David Clarkson considering appeal of 10-game suspension
David Clarkson was handed an automatic 10-game suspension for illegally leaving the ice but he's still considering an appeal.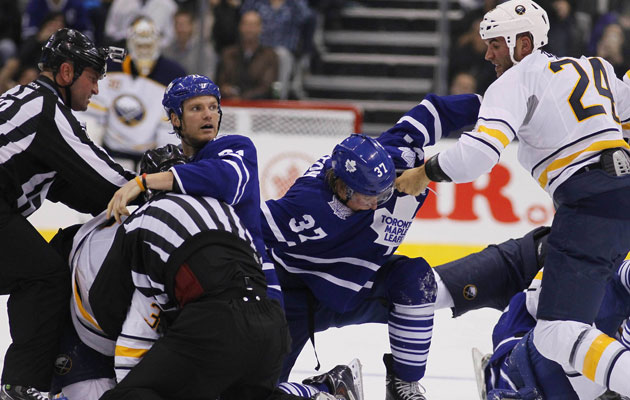 NHL previews: Atlantic Division | Metropolitan Division | Central Division | Pacific Division
There didn't seem to be much room for negotiating in Maple Leafs forward David Clarkson's 10-game suspension handed out on Monday night, it's an automatic suspension for leaving the bench illegally. Period.
But that doesn't look like it's going to stop Clarkson from appealing. While the other main parties of Sunday night's brawl have spoken to the media, Clarkson has remained quiet. The belief behind that is he's planning to remain quiet since he plans to appeal, or at least considering it.
This hunch has been confirmed by Chris Johnston of Sportsnet; Clarkson is mulling the appeal option.
Good luck with that, Clarkson. Not happening.
It's very clear in the videos of the fight that Clarkson left the bench to join the fracas on the ice and that's very clearly against the rules. There is no room for misinterpretation in that rule.
Then again, perhaps it's a stall tactic as Sean Gentille threw out. With Phil Kessel facing a potential suspension, the Leafs could be in a really rough spot that first week, as Cap Geek noted.
If Clarkson & Kessel suspended & Orr, McLaren & Bolland injured, #Leafs will be left with this opening day: 9F, 7D, 2G & $995k in cap space.

— CapGeek (@capgeek) September 24, 2013
Things are never, ever dull in Leaf land.
Show Comments
Hide Comments
Pittsburgh goes without a shot on goal in the second period but pulls out a thrilling win in...

Series schedule, results and updates from the title showdown between Nashville and Pittsbu...

Pittsburgh has the talent and experience, but the Predators' fiery blue line should help them...
The Predators are riding an opportunistic defense and superb goalie, while the Pens boast elite...

Washington and Toronto set to face off March 3 in Annapolis

"Let's go, Preds!" chants take on a whole new meaning in the hype piece