Russia's national nightmare: Hockey team done after 3-1 loss to Finland
The expectation was for Russia to win gold in men's hockey. They won't even medal after being eliminated by Finland in the quarterfinals, 3-1.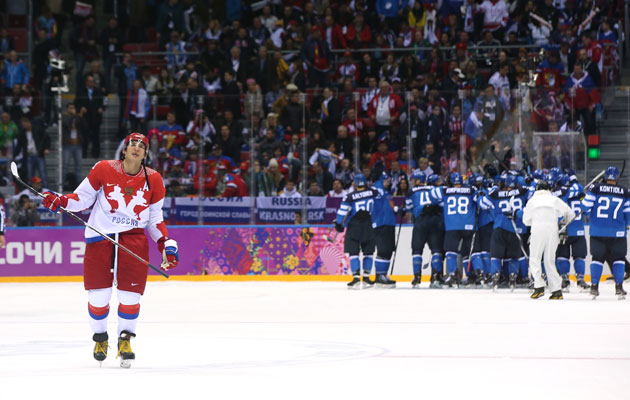 Russia's national nightmare has been realized; the men's hockey team has been eliminated at the Olympics prior to the medal round.
Facing enormous pressure to not just medal but win gold at these Olympics, Russia faced longtime rival Finland in the quarterfinals on Wednesday at Bolshoy Ice Dome and came up short, losing 3-1 to their neighbors to the northwest. It brings a collosally disappointing end to the host nation's medal hopes.
Perhaps Alex Ovechkin summed it up best for Russia.
Alex Ovechkin: "It sucks. What else can I say?"

— Cörey Masisak (@cmasisak22) February 19, 2014
Russia opened the scoring in the first period on the power play when Ilya Kovalchuk one-timed a pass from Pavel Datsyuk that flew by Finnish goalie Tuukka Rask and popped the water bottle. He and the crowd went nuts, Kovalchuk jumping into the air as if he were competing in the Summer Games in track and field.
That forced Finland to open it up a little and that's when Finland's skill shone through, not Russia's. The Finns tied the game a minute and a half later when Juhamatti Aaltonen undressed Russian defenseman Nikita Nikitin and then managed to beat Russian goalie Semyon Varlamov short side to take the game into the first intermission 1-1.
In the second period it was the Teemu Selanne and Mikael Granlund show. Just 2:22 into the period, Granlund turned on his jets and flew by defenseman Slava Voynov in the neutral zone to spring Finland on the rush. He held the puck long enough to draw the defense before he passed it over to Selanne who put it between Varlamov's pads for the 2-1 lead.
Selanne would return the favor in the final five minutes of the period when Finland got a chance on the power play. Selanne's shot was saved by Varlamov but Granlund was there for the rebound to make it 3-1 and set about the panic all across the country.
A couple of minutes later Varlamov was replaced in the game by Sergei Bobrovsky but that didn't help Russia get any offense going against Finland's trap and excellent goaltending. Or at least generate any goals.
It was partially the Finnish defense and system, partially Rask in net. The goaltender stopped 37 of Russia's 38 shots in the game and looked like the goalie Bruins fans have come to know and love.
Many are going to look at this as an upset in in some ways it absolutely is. Russia is the host at these Games and was labeled a pre-Olympic co-favorite to win gold. In the truest sense of the word, an entire nation is certainly upset. But Finland is consistently excellent in international tournaments while Russia hasn't been. Finland has had Russia's numbers in recent years.
In addition to no medal this year, this marks the third straight Olympics in which Russia will not medal in hockey. In a country that cares about hockey the way Russia does, that's not going to be considered acceptable.
Show Comments
Hide Comments
As training camps get closer, prices tend to go down

Canada's blue line takes a hit as an injury has forced two-time Norris winner Keith out

Hampus Lindholm is the newest addition to Sweden's stacked blue line for the World Cup of...
Lucic signs with Oilers, Okposo goes to Buffalo, Bruins land Backes

'Let's Go Crazy' will be blaring after goals at the Xcel Energy Center from now on

Canada loses their top left winger, but brings in the postseason's leading scorer as a rep...