Wild GM Chuck Fletcher on Mike Yeo: 'He's our coach'
Mike Yeo is expected to be back behind the bench for the Minnesota Wild in 2013-14.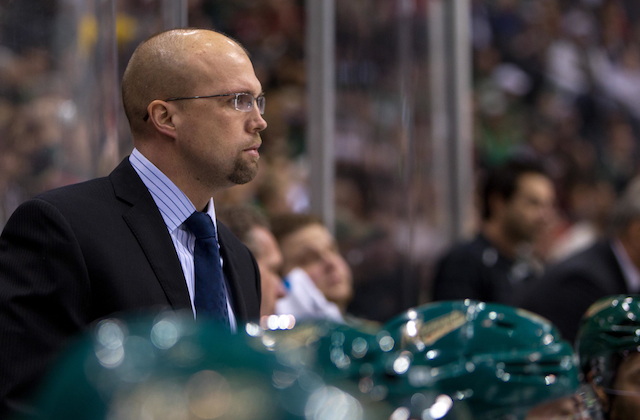 More NHL Playoffs: Scores | TV Schedule | Expert Picks | Odds | Mock Draft | Rumors
It appears as if Minnesota Wild coach Mike Yeo will be back behind the bench to start the 2013-14 season.
Wild general manager Chuck Fletcher told Michael Russo of the Star Tribune on Saturday that Yeo "is our coach" and that he feels the team is headed in the right direction.
Minnesota ended a four-year playoff drought this season and qualified as the No. 8 seed in the Western Conference.
They were eliminated in five games by the Chicago Blackhawks this past week.
"I look where we were a year ago today to where we are now, there's just been a dramatic improvement, a dramatic difference," Fletcher told Russo, via the Star Tribune. "Clearly we're on the right path. But you play a team like Chicago, you see where you have to get better. Their talent level, their depth is pretty impressive. You see where you need to get to, but by the same token, last year we were Mikko Koivu and a bunch of prospects."
And even that last line might even be giving the team too much credit.
Last season the Wild were the best team in the league after 30 games record-wise, but that early success appeared to be a mirage even as it was happening. They would get badly outshot on a nightly basis and were leaning heavily on their goaltending duo of Niklas Backstrom and Josh Harding, who were both playing well over their normal career levels. Once that white-hot goaltending started to drift back toward its expected level, the bottom completely fell out on the Wild's season and the team ended up finishing with one of the worst records in the league.
The Wild then went out this offseason and made some major investments in free agency by signing Zach Parise and Ryan Suter to matching 13-year contracts. At the trade deadline the Wild added to that core by trading for former Buffalo Sabres captain Jason Pominville.
Perhaps the best sign for the Wild, however, is the development of some of their younger players like forwards Charlie Coyle and Jason Zucker, and defenseman Jonas Brodin.
There was perhaps no rookie in the NHL this season who made a bigger impact on his team than Brodin, who spent most of the season playing top-pairing minutes alongside Suter.
The team also made some nice strides in its biggest area of weakness, which was its ability to possess the puck and generate more shots than its opponents. Fletcher noted that last season the Wild outshot their opponents just 24 times in a full 82-game season, but were able to do it 26 times this season in just 48 games. They also improved their goal-scoring output by more than a half-goal per game. Though, after being the lowest scoring team in the league last season there really was nowhere to go but up.
But even with that marginal improvement there are still some areas of concern for the Wild heading into the offseason. For one, they spent all the way to the cap this season (third highest payroll in the NHL) and were only good enough to barely sneak into the playoffs as a No. 8 seed. With a declining cap next season they only have $9 million in cap space to fill six roster spots.
With that limited space to work with it's going to be crucial for guys like Zucker and Brodin to keep improving and giving the Wild top players still on their entry-level deals.
It's a team that moved in the right direction, but there's still a lot of work to be done.
Show Comments
Hide Comments
Washington and Pittsburgh figure to go neck and neck, as do Anaheim and Edmonton

Cassidy went 18-8-1 after replacing Claude Julien in 2016-17

With the playoff field cut in half, the stakes keep getting raised
Green has led Vancouver's AHL affiliate since 2013

Series schedules, results and updates from the second round of the Stanley Cup race

Here's how to stay on top of all of the NHL's second-round playoff series, which begin Wed...