PHOTO: USA loss to Canada equals a bald eagle Justin Bieber Belieber
Loser of USA-Canada had to take Justin Bieber according to a Chicago billboard, right? That equals a bald eagle in Belieber bling. It's not pretty.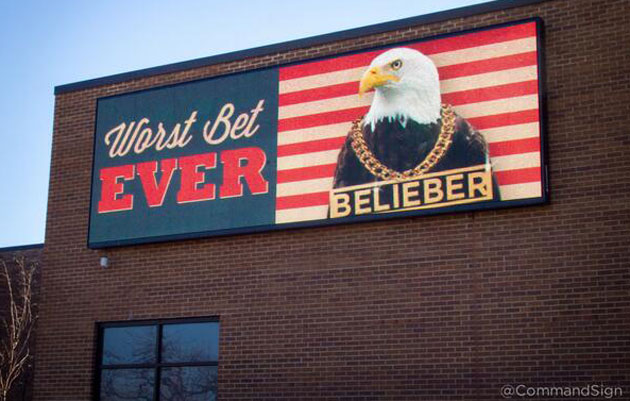 The bet was the loser of the semifinal matchup between the USA and Canada on Friday had to take Justin Bieber. Well, it's time to pay up America.
Talk about your ultimate backfires. That poor, poor beautiful bald eagle, it should never be shamed in such a way. We appreciate your bravado, Chicago-area billboard but please, think about the ramifications of such a bet in the future.
Photo via @CommandSign
Show Comments
Hide Comments
The record-setting Jamaican sprinter had one of his nine gold medals stripped

This could be the best Olympics ever

Hundreds of athletes are implicated across more than one Olympics
Biles hopes to add another heap of gold medals to the United States' cache

If you've got a problem, yo, he'll solve it

The coaches made headlines for all the wrong reasons during the Olympics