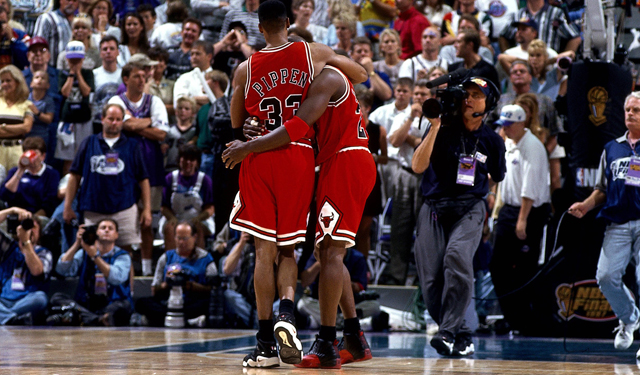 By now it's become a cliché to mention whenever someone isn't feeling their best that they might be having their "Flu Game." On June 11, 1997, Michael Jordan wasn't inventing the Flu Game necessarily, but he was grabbing ownership of such an ordeal, like he'd done with so many moments and situations in NBA history. The Chicago Bulls were tied with the Utah Jazz 2-2 in the 1997 NBA Finals after both teams held serve in their respective home games.
The Jazz had one more game in Utah before heading back to Chicago for the rest of the series and needed to win a third straight game in the Finals in order to not have the odds stacked completely against them. Also in their favor that day were the reports that Jordan was experiencing flu-like symptoms and he wasn't going to be 100 percent for Game 5. This was possibly the extra edge the Jazz needed to get their series lead.
There are all kinds of rumors as to why Jordan wasn't feeling up to snuff. Perhaps he had experienced a late night and was experiencing the effects of it the next day. Maybe he was actually sick. Maybe he wasn't sick at all and it was just a mind game. Some wonder if Jordan had been up late gambling the night before Game 5. Regardless of what actually happened, what we know is Jordan looked visibly weakened on the court throughout a Game 5 performance that would end up adding to the incredible legend and folklore of his legacy.
Despite having the flu or flu-like symptoms, Jordan rose to the occasion like we were used to seeing him do. Phil Jackson mostly used an eight-man rotation that day in addition to Jud Buechler and Jason Caffey finding a handful of minutes each. But the Bulls were relying on their two stars to lift them to a series lead while heading back to Chicago for Game 6. Scottie Pippen played 45 minutes, shooting 5-of-17 from the field for 17 points but also having 10 rebounds and five assists.
Jordan was the story though. He shot 13-of-27 from the field. He was 10-of-12 from the free throw line. He tallied 38 points, seven rebounds, five assists, three steals, and a block while collapsing to the bench and chugging fluids to replenish his weakened body at every timeout.
It was one of the more dramatic moments in NBA Finals history, just from an individual standpoint. We'd seen players play through illness and injuries before. Willis Reed famously walked out of the tunnel at Madison Square Garden to lift the New York Knicks over the Los Angeles Lakers in Game 7 of the 1970 NBA Finals. But even then he only scored a couple of baskets to start the game before giving way to Walt Frazier's incredible Game 7 performance.
This time Jordan was not only overcoming the sickness but he was doing so by being a ridiculously efficient volume scorer. The 38 points tied a series high for him, after also scoring 38 in their Game 2 victory. He'd top that total in Game 6 with 39 as they secured the fifth championship of his career and the franchise's history. But we remember the Flu Game as the turning point in the series when the Jazz weren't allowed to snatch control of the series and the Bulls all but guaranteed themselves the Finals victory.
And if you really have some time to kill today on the 18-year anniversary of the Flu Game, you can also watch the entire fourth quarter of that Game 5 below:
Hope you're feeling better, Mike!