Harvey Updyke released from jail
Harvey Updyke was released from Lee County Jail on Monday after serving six months for the poisoning of Auburn's Toomer's Oaks.
Guard your trees, Auburn fans, because Harvey Updyke has been released from Lee County Jail.
Updyke has spent the last six months serving part of his sentence for poisoning the trees at Toomer's Corner on the Auburn campus. The rest of Updyke's sentence after pleading guilty to one count of unlawful damage of an animal or crop facility is five years of supervised probation.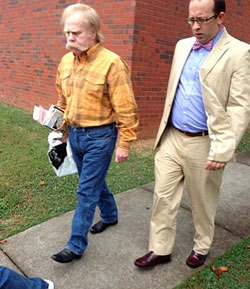 Attorney Andrew Stanley told al.com that Updyke was on his way to Louisiana where he will live with his wife, Elva.

"He's very sincere. He wants to go back to Louisiana and never wants to be heard from ever again," Stanley said. "Certainly, he's got this case pending in Louisiana that he wants to take care of. I think that's going to be one of the first things he does when he gets down there.

"He doesn't want to have to deal with this anymore. He wants to pay his money back and be done with the five years, and never be heard from again."
As part of that probation Updyke will have a 7 p.m. curfew, is not allowed to talk to the media, and is not only banned from the Auburn campus but also from attending any collegiate sporting event.
Updyke poisoned the trees some time after the 2010 Iron Bowl, but it's likely he'd never have been caught if not for his own stupidity. After poisoning the trees Updyke called in to Paul Finebaum's radio show, where he not only admitted to poisoning the trees but described how he did it.
The trees were cut down on April 23, but Auburn plans to replace them as part of a redesign of Toomer's Corner.
Show Comments
Hide Comments
Our Latest Stories
These are the games worth watching this weekend

Two of the favorites within their respective Big Ten divisions square off Saturday

The Cardinals and Tigers play what could be the game of the year on Saturday night
Mack Brown left the broadcast, a wacky two-point conversion was scored and more

The Vols and Bulldogs will battle for front-runner status inside the SEC East

The Huskies look like the best team in the Pac-12, but can they sustain their success at O...