LOOK: NC State's new black alternate uniform
North Carolina State has a new black alternate uniform.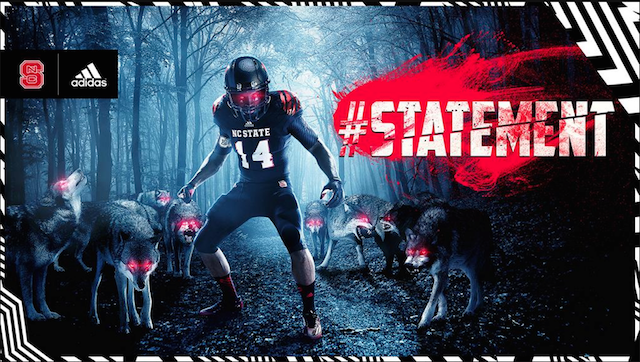 North Carolina State struggled for most of its season opener against Georgia Southern, as it didn't take its first lead until there was only 1:37 left in the game when a touchdown pass from Jacoby Brissett to Matt Dayes gave the Wolfpack a 24-23 win.
Now, if you're a North Carolina State fan, who just saw your team go 0-8 in the ACC last year, you could sit there and ponder what such a narrow escape means for the 2014 season OR you could look at some new black alternate uniforms.
What's it gonna be, North Carolina State fan?
#PackinBlack jerseys will be available for purchase at a later date @adidas pic.twitter.com/v4eZocMOOW

— NC State Football (@PackFootball) August 31, 2014
Do the uniforms come with the red, glowing eyes? Because that should probably be against the rules.
Will Sunderland allegedly stole and tried to sell video game systems

National powerhouse Alabama joins the throng of schools trying to lure five-star QB Justin...

The shooting took place during an apparent meeting over a cell phone
A decision in either direction would help the NCAA move forward in Sin City

White is the No. 1 running back recruit and No. 6 overall recruit for next year's class

Dennis Dodd goes inside college football to explain why realignment is still an agenda ite...