Maker's Mark producing a limited edition Charlie Strong bottle for Louisville fans
According to Card Chronicle, Louisville fans will be able to purchase a limited edition Charlie Strong bottle of Maker's Mark July 20.
• 1 min read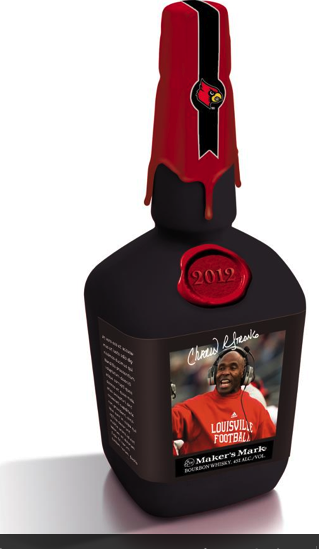 Artwork via Card Chronicle(SB Nation)
Maker's Mark, the Loretto, Ky. based bourbon company, has a history of producing limited edition bottles in honor of notable sports figures in the state.

Charlie Strong, entering his third season as the Cardinals' head coach, will reportedly join the likes of Pitno and Calipari in the group to grace the wax-dipped bottle.

Card Chronicle, SB Nation's Louisville site, confirmed with a Maker's Mark employee that the limited edition Charlie Strong bottle would be available later this summer - possibly as soon as July 20.

How, might you ask, did Charlie Strong win his way in the hearts of Louisville fans in just two years?

This past season, Strong led the Cardinals to a share of their first Big East championship since 2006. The Cardinals bounced back from a 2-3 start to win five of their final six regular season games - all in league play - to force a three-way tie for the conference title.

All that after erasing memories of Steve Kragthorpe with a bowl win in Strong's rookie campaign.  Throw in a pair of the Big East's better recruiting classes and you can see how Strong won his way to bottle-status.

Louisville fans, it sounds like there will be high demand for this limited edition bottle.  Especially considering the talent the Cardinals are bringing back in 2012.  

Cheers, Coach.

Keep up with the latest college football news from around the country. From the opening kick of the year all the way through the offseason, CBSSports.com has you covered with thisdaily newsletter. View apreview.

Get CBSSports.com College Football updates on Facebook
Show Comments
Hide Comments
Have fun with this, SEC defenders

Making plays on the over/under for all 12 teams in the Pac-12

Mike Gundy and the Cowboys know there's one monster they have to contend with in their own...
The initiative has been put forth to offset the burden of declining freshman enrollment

How will the Big 12 shape up in 2017? Let's take a team-by-team look

Kush went 176-54-1 in 22 seasons at Arizona State