PHOTO: New options for Texas Tech's helmets?
A photo surfaced on Reddit over the weekend that hints at possible new Under Armour helmet designs for Texas Tech under Kliff Kingsbury.
• 1 min read
New Texas Tech coach Kliff Kingsbury officially signed his contract last week, which among other things guarantees him oversight in the development of the Red Raiders' Under Armour uniforms.
According to RedRaiderSports.com, the contract includes a clause that gives Kingsbury "creative license in the design of the football team's equipment and team uniforms."
So after photos of several different Texas Tech helmet designs surfaced on Reddit over the weekend, you must consider the possibility that the image overhaul will begin in the 2013 season.
SBNation's Partick Vint tracked the photo back to Alex Mayes, whose brother, Connor Mayes, holds a scholarship offer from Texas Tech and attended Tech's Junior Day Saturday.
Texas Tech will likely not comment on the validity of the helmets or reveal any new designs until much later in the year. Under Armour, like Nike and Adidas, has begun to embrace the big "release" of these designs.
Any favorites among the group? Let us know in the comment section below or tell us on Twitter (@EyeOnCFB).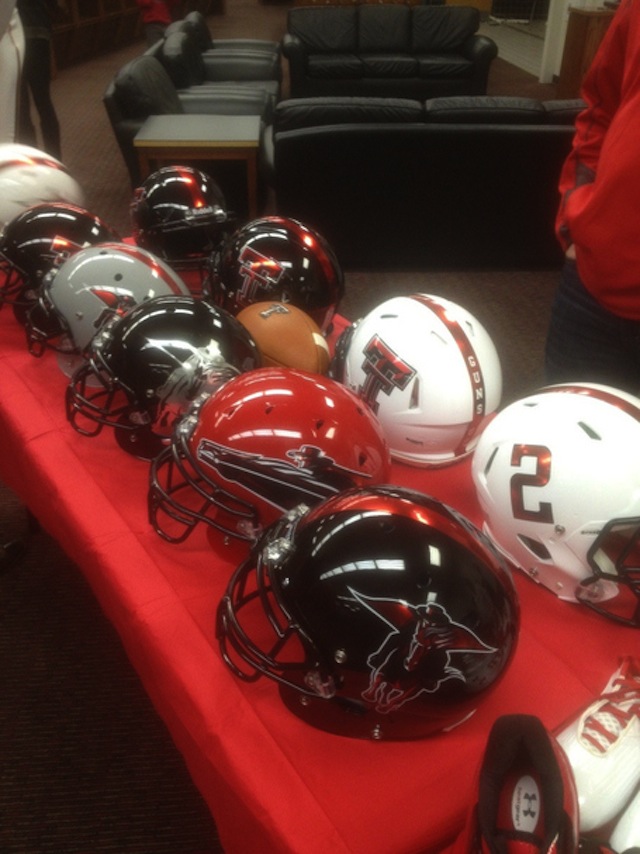 For more college football news, rumors and analysis, follow @EyeOnCFB on Twitter, subscribe to our RSS Feed, college football newsletter, and get the Eye On College Football Podcast from iTunes. You can follow Chip Patterson on Twitter here: @Chip_Patterson.
Show Comments
Hide Comments
The SEC and Michigan each had great weekends in the 2017 NFL Draft

Rawleigh Williams III left the field on a stretcher after a neck injury

Jim Harbaugh wants more college football programs to embrace the international trip
It seems there's a lot of talent in the SEC

There are all sorts of drafts out there and these are my favorites

It's time to say goodbye to so many great players