South Carolina freshman kicker missing a letter on his jersey
South Carolina kicker Elliott Fry has a jersey that is missing a letter. After his first quarter field goal, cameras spotted the missing A in CAROLINA.
• 1 min read
South Carolina freshman kicker Elliott Fry connected on his first attempt of the season, a 39-yard field goal that put the Gamecocks up 10-0 in the first quarter. His jersey may be one letter short with "CAROLIN," but he was not a yard short on the kick.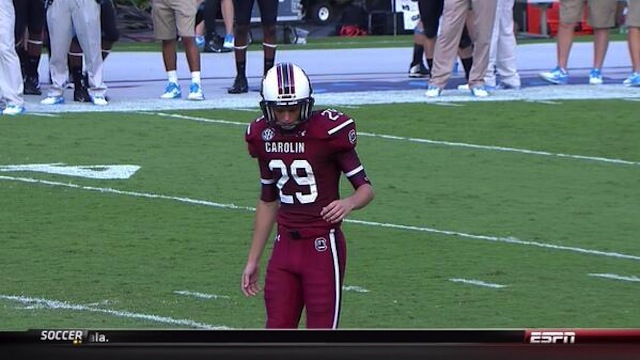 The Buckeyes are big favorites to win the Big Ten's East division as well as the conference...

A look at the where the Nittany Lions stand five years later through the eyes of four unique...

Freeze resigned as Ole Miss coach, and the insider team at OMSpirit.com breaks down the im...
Freeze left a fastball over the plate and The Oxford Eagle took advantage of it

Tim Tebow joined the show right after a baseball game to chat about football and more

Tebow joined the 247Sports College Football Podcast this week to discuss a variety of topi...