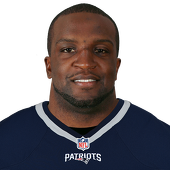 Own

34%

Start

27%

ILB Rank

NR
Latest News
Harris recorded eight tackles Sunday against the Texans. With the Texans running the ball 37 times in this game, Harris had plenty of opportunities which resulted in him collecting eight tackles. Harris now has posted at least eight tackles and three of his last four contests. However, he now has only half a sack over his last six games.

Harris recorded one sack and nine tackles Thursday against the Bills. Harris continued his inconsistent play over the last six weeks. During that time, he's alternated games with four or fewer tackles followed by games with at least nine tackles. He also broke a streak of four games without a sack, and he now has three sacks on the season.

Harris recorded four tackles Sunday against the Jaguars. With the Jaguars throwing the ball 40 times while only giving their running backs 15 carries, there weren't many opportunities for Harris to make a big number of tackles. In addition, he now hasn't recorded a sack since Week 4.

Harris recorded nine tackles Sunday against the Raiders. Despite winning big, Oakland ran the ball far more often than they ran it, which kept Harris from potentially reaching double-digits in tackles. He now has recorded at least seven tackles in five games this year.

Harris recorded three tackles Sunday against the Patriots. With the Patriots attempting only five running plays by their running backs, Harris was never in the equation to pile up his usual number of tackles. Although he's recorded at least seven tackles in four different contests, this the second time in his last three games in which he's only had three tackles.
Recent Tweets
David Harris is #Jets' nominee ---> Woodson, Rivers, Megatron among #NFL sportsmanship award nominees https://t.co/8qDenadilO

Jets defensive snap counts (based on 75): DL -- Wilkerson 74, L. Williams 67, Douzable 61, Harrison 52, Bowens... https://t.co/Ww4n4FCqB2
Completed Games
| WK | OPP | TK | SACK | INT | FF | DFR | DFTD | PDEF | FPTS |
| --- | --- | --- | --- | --- | --- | --- | --- | --- | --- |
| 1 | CLE | 6.0 | 1 | 0 | 0 | 0 | 0 | 0 | 1 |
| 2 | @IND | 6.0 | 0 | 0 | 1 | 0 | 0 | 0 | 0 |
| 3 | PHI | 5.0 | 0 | 0 | 1 | 0 | 0 | 0 | 0 |
| 4 | @MIA | 3.0 | 1 | 0 | 0 | 0 | 0 | 0 | 1 |
| 5 | BYE | - | - | - | - | - | - | - | - |
| 6 | WAS | 5.0 | 0 | 0 | 0 | 0 | 0 | 0 | 0 |
| 7 | @NE | 3.0 | 0 | 0 | 0 | 0 | 0 | 0 | 0 |
| 8 | @OAK | 6.0 | 0 | 0 | 0 | 0 | 0 | 0 | 0 |
| 9 | JAC | 3.0 | 0 | 0 | 0 | 0 | 0 | 1 | 0 |
| 10 | BUF | 2.0 | 0.5 | 0 | 0 | 0 | 0 | 0 | 0.5 |
| 11 | @HOU | 5.0 | 0 | 0 | 0 | 0 | 0 | 1 | 0 |