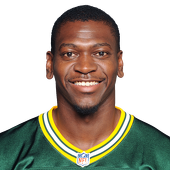 Own

88%

Start

29%

RB Rank

63
by RotoWire Staff | Special to CBSSports.com

Packers' James Starks: Interested in finding starting job

Starks, an impending free agent, suggested that he may seek out a starting role this offseason, the Milwaukee Journal Sentinel reports. "Opportunity is all I need," Starks said. "Could I be a starter? Yeah. Can I handle it? Yeah. But I'm good in any position I play. I'm a team player. I just want to be successful. I want to win another ring." Starks set career-high marks for rushing yards (601), receptions (43) and receiving yards (392) in 2015, but he also fumbled five times (lost three) and was unable to seize the lead-back role from an out-of-shape Eddie Lacy. The Packers hope Lacy will lose some weight and return to his 2013-14 form, but the team likely still has some interest in retaining Starks, who has never played for another organization. Set to turn 30 in February, Starks is unlikely to find a guaranteed starting job, but he might find a team that provides him with a better opportunity. Of course, he also emphasized the importance of winning, which is something he's grown accustomed to in Green Bay.

by RotoWire Staff | Special to CBSSports.com

Packers' James Starks: Totals 65 yards, scores against Washington

Starks rushed for 53 yards and a touchdown on 12 carries and added 12 yards on two catches in Sunday's win over Washington. Starks helped Green Bay recapture the lead in the third quarter on a four-yard stretch play to the right. Despite Eddie Lacy's struggles, Starks was never able to seize the starting role and the two ended with very similar stat lines - Starks with 993 total yards and five touchdowns and Lacy with 946 total yards and five scores. Not surprisingly, the two split the carries evenly on Sunday with 12 apiece, but it'll be interesting to see if Starks gets a greater share next weekend after Eddie Lacy's late-game fumble. In Green Bay's Week 16 matchup against Arizona, Starks was held to 11 total yards.

by RotoWire Staff | Special to CBSSports.com

Packers' James Starks: Gains 42 yards on 11 touches

Starks had eight carries for 24 yards and three receptions for 18 yards (on three targets) in Sunday's 20-13 loss to the Vikings. True to his word, head coach Mike McCarthy kept Starks involved in the offense, despite the running back's recent struggles holding on to the ball. Starks and Eddie Lacy played to an unproductive stalemate, with the latter gaining 34 yards on 13 carries and seven yards on two receptions (two targets). The timeshare will likely continue in the first round of the playoffs against a Washington defense that surrendered 4.8 yards per carry and 122.6 rushing yards per game during the regular season.

by RotoWire Staff | Special to CBSSports.com

Packers' James Starks: Non-factor in Packers loss

Starks had three carries for 11 yards in Sunday's loss to the Cardinals. Starks had both his fewest carries and total yards since Week 1 Sunday as the Packers struggled to do much of anything on offense. Fellow running back Eddie Lacy tallied 47 carries to Starks' 23 over the last three games, so Starks is pretty clearly behind Lacy on the depth chart heading into Week 17.

by RotoWire Staff | Special to CBSSports.com

Packers' James Starks: Outproduces Eddie Lacy

Starks had nine carries for 51 yards and caught his lone target for five yards in Sunday's 30-20 win at Oakland. Starks easily outproduced Eddie Lacy, who surprisingly had just 23 yards on 11 carries. The veteran RB continues to be an asset to Green Bay's offense, although he failed to catch at least four passes for the first time in five weeks. It remains to be seen how the backfield touches will be distributed next week between Starks and Lacy, but they're both likely to have a tough time at Arizona.

by RotoWire Staff | Special to CBSSports.com

Packers' James Starks: Scores two touchdowns against Dallas

Starks had 103 yards from scrimmage and scored a pair of touchdowns in Sunday's 28-7 win over the Cowboys. He finished with 11 carries for 71 yards and caught all four of his targets for 32 yards. Eddie Lacy came out of coach Mike McCarthy's doghouse to rush for a season-high 124 yards on 24 carries, but Starks was still able to record a couple of touchdowns, including a fourth-quarter rushing score that essentially iced the win. He actually could have had a monster game, but his first-quarter rushing touchdown was overturned by replay. The veteran RB has been a valuable piece in Green Bay's offense this year, especially as a pass catcher, catching 39 balls on 49 targets, but his upside is obviously capped by the presence of Lacy. Next week, Starks and the Packers will travel to Oakland to face the Raiders in a favorable matchup.

by RotoWire Staff | Special to CBSSports.com

Packers' James Starks: Works ahead of Lacy in win

Starks had nine carries for 15 yards and five catches for 45 yards (on seven targets) in Sunday's 27-23 win over the Detroit Lions. Playing behind an injury-ravaged offensive line, Starks got the start over Eddie Lacy, receiving four carries and a target on the first five snaps of the game. Lacy did mix in during the first half, but he only managed to gain one yard on six touches, and then didn't see the field after halftime. Although Starks didn't fare any better on the ground, he at least offered the Packers something in the passing game. Lacy's absence may have partially been due to the need to go pass-heavy while playing from behind, but it will still be interesting to see what head coach Mike McCarthy says after the game and during the upcoming week. The Packers have a Week 14 home date with the Cowboys.

by RotoWire Staff | Special to CBSSports.com

Packers' James Starks: Rushes for 39 yards on seven carries

Starks rushed for 39 yards on seven carries, and caught four balls on five targets for 41 yards in Thursday's Thanksgiving loss to the Bears. Starks was notably in a backup role as Eddie Lacy got 17 carries to Starks' seven. It appears as Lacy has full control over the lead back role for Green Bay again. Starks should continue to see a few drives of action per game, including two-minute drill and comeback situations.

by RotoWire Staff | Special to CBSSports.com

Packers' James Starks: Upstaged by Eddie Lacy

Starks had eight carries for just 14 yards and caught his lone target for 30 yards in Sunday's 30-13 win at Minnesota. Starks took a backseat to Eddie Lacy, who finally got on track, rushing for a season-high 100 yards on 22 carries. The veteran Starks has been a steady, yet unspectacular contributor for most of the season, and that should continue, although it looks like Lacy might start to see more work again. Next up for Starks and the Packers will be a home tilt against NFC North rival Chicago.

by RotoWire Staff | Special to CBSSports.com

Packers' James Starks: Collects 96 yards against Detroit

Starks rushed for 42 yards on 15 carries in Sunday's loss to Detroit. He added six catches on seven targets for 54 yards through the air. The 2.8 yards per rush didn't look pretty, but big rushing gains haven't been a significant part Starks' game this season, as he entered Week 10 with just two contests in which he averaged more than four yards per carry. Catching the ball is more Starks' speed and with Sunday's performance, Starks moved into third on the team in receptions, behind only Randall Cobb and Richard Rodgers. It would be a surprise if Starks does not remain the Packers' starter after taking over for Eddie Lacy on Sunday, as Starks' 94 all-purpose yards were more than any game Lacy has had since Week 1.