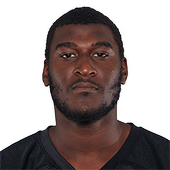 Justin Blackmon
#14 WR / Jacksonville Jaguars / EXP: 2YRS
Height: 6-1
Weight: 210 lb
Age: 26
College: Oklahoma State
Bye 8,18,19,20,21
Own

0%

Start

0%

WR Rank

NR
INJURY ALERT:
Suspended | Suspension | Suspended indefinitely
by RotoWire Staff | Special to CBSSports.com

Jaguars' Justin Blackmon: Reportedly arrested for DUI

Blackmon was reportedly arrested Saturday in Ardmore, Oklahoma for driving under the influence, the Florida Times-Union reports. Blackmon, who hasn't played since October of 2013, remains under contract with the Jaguars, but it seems increasingly unlikely that he'll play for the team again. At this time, the 25-year-old wideout remains under an indefinite suspension from the NFL.

by Elliott Smith | Staff Writer

Jaguars GM says WR Justin Blackmon 'unlikely' to return

Wide receiver Justin Blackmon , who hasn't practiced or played since 2013 after being suspended for the third time for violating the NFL's substance abuse policy, is unlikely to return to the Jaguars according to GM David Caldwell, per ESPN.com. Blackmon hasn't been in contact with the team and his time away from the game signals he is not prepared to hit the field anytime soon. "I don't know to expect but I would say common sense would probably be if you haven't played football in two-and-a-half years apparently that's not a priority for you," Caldwell said. The Jaguars have no plans to cut Blackmon, who would have to apply for reinstatement and go through a two-month vetting process before being allowed to play again.

by Brandon Wise | Staff Writer

Report: NFL denies Jaguars WR Justin Blackmon reinstatement

Jaguars wide receiver Justin Blackmon has applied for reinstatement into the NFL, but his bid was denied, according to the Associated Press. Blackmon, who was suspended indefinitely for multiple drug and alcohol arrests, may have failed another drug test, according to the report. Blackmon hasn't played in the league since 2013 where he played in just four games, totaling 29 receptions for 415 yards.

by Jason Butt | CBSSports.com

Jaguars planning to play 2015 season without Justin Blackmon

As far as the Jaguars are concerned, Justin Blackmon will not be lining up at receiver for them this season. At least that's the approach Jacksonville is taking. Blackmon has been indefinitely suspended since Nov. 1 2013 for three violations of the substance-abuse policy under the old CBA. "Our process hasn't changed," Caldwell said, via ESPN.com. "[We] plan to go without him, but if he emerges, he emerges, and he's going to go in with those top guys and compete with those other guys. Hopefully we're able to get some news, but if not we weren't planning on [having Blackmon]. We're just going to go [without him]." Before he can re-join the Jaguars, he'll need to file an application for reinstatement, with NFL commissioner Roger Goodell making a decision within a 60-day window. The application letter would include details of the treatment he's received. Since being selected with the fourth overall pick in the 2012 draft, Blackmon has only played in 20 games. He has 1,280 yards and six touchdowns in his career.

by Michael Hurcomb | Fantasy Writer

Ex-Bucs GM Dominik: We had scout shadow Justin Blackmon in 2012

When quarterback coach George Whitfield Jr. said earlier this week NFL teams have been shadowing and spying on quarterback prospect Jamies Winston, who could be the top pick in the 2015 NFL Draft, it was obviously met with some doubt. However, during a radio interview with ESPN on Wednesday, former NFL general manager Mark Dominik gave credence to Whitfield's comments. Dominik said he had a scout shadow Jaguars wide receiver Justin Blackmon leading up to the 2012 NFL Draft since there were concerns about Blackmon's character. Blackmon had a DUI arrest in 2010 and several other minor incidents. "We found out there was a bar called the Cricket Inn or the Cricket, which was a popular bar there in Oklahoma State," said Dominik, who is now an ESPN analyst. "He [the scout] sat there for one week, went in at 3 o'clock every day and stayed until 11 o'clock at night. That was his job, and we checked how many times did Justin Blackmon come in? And he came in too many times and we took him off our board." The Bucs had the No. 5 pick in the 2012 draft, which they traded to Jacksonville, who drafted Blackmon. The Bucs acquired the Jaguars' first-round pick and took Mark Barron with the seventh overall pick. The Bucs have the first overall pick in this year's draft. Since being drafted, Blackmon has appeared in only 20 NFL games. He has three alcohol-related or marijuana-related arrests since turning pro and has been suspended twice by the NFL for violating the league's substance-abuse policy. He was suspended for the first four games of the 2013 season and then suspended indefinitely on Nov. 1, 2013 for his third failed drug test.

by Larry Hartstein | Senior Analyst

Allen Robinson, Marqise Lee projected as starting outside WRs

Allen Robinson and Marqise Lee are expected to be the Jaguars' starting outside receivers this season, per the team's website. Justin Blackmon remains suspended indefinitely, and Cecil Shorts left the team via free agency. Under this scenario, Allen Hurns would be a backup or possibly play the slot. "The Jaguars like Lee and Robinson on the outside," the website said. "That's where they envision them."

by Michael Hurcomb | Fantasy Writer

Jaguars' Khan 'very optimistic' about WR Blackmon being reinstated

Jaguars owner Shahid Khan said Friday he is "very optimistic" about wide receiver Justin Blackmon, who missed the 2014 season after being suspended indefinitely for a third violation of the league's substance abuse policy, being reinstated to the NFL. "I think he's paid his dues and I think he's got his life together," Khan said, per The Florida Times-Union.

by Larry Hartstein | Senior Analyst

New optimism regarding Justin Blackmon's potential return

A lot of people inside the NFL are optimistic Jaguars receiver Justin Blackmon is "overcoming his issues" and will be back in the league in 2015, reports Fox Sports. Blackmon got suspended in November 2013 following his third violation of the league's substance-abuse policy. He checked into a treatment facility last September. General manager Dave Caldwell said recently he hopes Blackmon wins reinstatement, but is not counting on it.

by Larry Hartstein | Senior Analyst

Jags not counting on Justin Blackmon in 2015

Jaguars general manager Dave Caldwell said he'd like to see suspended receiver Justin Blackmon on the field next year, but he's not counting on it, reports ESPN.com. Blackmon got suspended in November 2013 after his third violation of the league's substance-abuse policy. This September, he checked into a treatment facility. Blackmon is suspended indefinitely and must apply for reinstatement. Caldwell indicated the team will keep Blackmon on the roster. "If he comes back he's a luxury and that's great for us," Caldwell said. "There's no downside to it."

by Chris Cwik | CBSSports.com

Report: Justin Blackmon enters treatment facility

Jaguars suspended wide receiver Justin Blackmon has voluntarily checked himself into a treatment facility, according to ESPN. Coach Gus Bradley said Blackmon was "doing very well," according to the report. Bradley cannot speak to Blackmon due to the suspension, and has been getting updates from his agent. Blackmon was suspended for at least a year after repeated violating the substance abuse policy. Though he's currently unable to play, Blackmon is still a member of Jacksonville's organization.