Who are the best players in the world without a major championship title?
There are plenty of guys that have never won a major, but who are the top-10 without one of the big four trophies?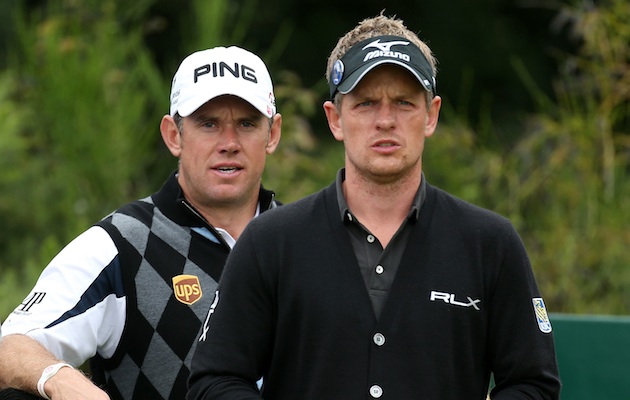 Majors are really, really hard to win. Not a lot of guys have done it. But there are always a group of people that shocks you when you realize they are still searching for their first major. We rank the top-10 in that category, so check out who made our list. 
10.) Ian Poulter -- He's struggled the last year with his golf game, but don't think Poulter shouldn't be on this list. He has 11 European Tour wins, including the 2010 Accenture Match-Play, and finished seventh and T-9 at this year's Masters and British Open, respectively. 
9.) Sergio Garcia -- You might be surprised that he's on this list, but Garcia is still a super talented golfer that could fall into a major championship win if he'd just get out of his own way. Garcia was in the hunt at the 2012 Masters before struggling on the weekend and saying, emphatically, "I'm not good enough to win a major." Still, Garcia is one of the ten best players in the world without one of the big four titles to his name even if he doesn't believe it. 
8.) Rickie Fowler -- A year ago I don't think Fowler makes this list, but his play in 2012 has been incredibly impressive, and the young American stared down his International hurdle (Rory McIlroy) in a playoff to card his first PGA Tour victory. Fowler has made the cut in eight of his last nine major starts and looks to have found that ability to close out big events when they matter. 
7.) Hunter Mahan -- Mahan's game has taken a different form this year, winning twice and making the cut in all three majors. He hasn't played great in majors over the years, but when Hunter's putter gets hot, he's definitely one of the top three or four Americans that has a chance at every major, no matter the golf course. 
6.) Steve Stricker -- It's insane that a guy with this consistent of a golf swing and this good of a putting stroke hasn't been the best player after four days at a major championship, but Stricker continues to search. Insane Stricker stat? Dude has made the cut in every major since 2010 but has no top-10s. Time is ticking for the 45-year-old. 
5.) Matt Kuchar -- A top-10 staple these days on the PGA Tour, some think this is the week that Kuchar will finally buck that major less title. The four-time winner on the PGA Tour sure doesn't have as many titles as you'd think, but he's been in the hunt a ton of times, and has four top-10s in majors since the 2010 U.S. Open, including a T-3 at the Masters this year and a T-9 at the British. The PGA definitely seems like the major for him, however, and his consecutive top-20s in this event show he's itching to get his hands on the Wanamaker. 
4.) Adam Scott -- He nearly bucked this last month, but a collapse at Lytham forced him to leave another major without a trophy. Scott's golf swing is incredible, he has one of the best caddies in the world on his bag, and the long putter sure seems to have helped him get the ball in the hole, the big question is still if he's mentally strong enough to close out 72 holes of a major championship. 
3.) Dustin Johnson -- Probably the easiest of the young Americans to put on this list mainly because of the success he has had in his short time on the PGA Tour. Johnson is a bunker-penalty away from possibly winning a PGA Championship two years ago, and has been in the final group in both the U.S. Open and British Open heading into the final day before faltering. His six wins since '08 are impressive on their own, but the guy has five top-10s in majors since the '09 PGA. 
2.) Luke Donald -- Oh, Luke. He's the No. 1 player in the world. He has 13 professional wins in his career including six in the last two years. He's the poster boy for the guy trying to buck the title of best player without a major as soon as possible. It'll happen sooner or later, you just never know when. 
1.) Lee Westwood -- The guy continues to put himself right there in majors, and he continues to come up short. Since the '09 British, Westwood has six top-three finishes in majors, but the 39-year-old can't close them out. The biggest question for Westwood to win a major is if he can handle the pressure coming down the stretch, and finally make the short putts needed to close one of these out. 
Show Comments
Hide Comments
Two of the PGA Tour's best were invited to hang out with Sean Payton and company

It's not a record, but it's not far off either

After a few Twitter burns, the Ben Crane drama is now over
This was one of the most improbable birdies of the season from Chris Stroud

The Texas duo showed some skill in alternate shot in New Orleans

Mat Goggin recently got his clubs broken by United on a trip