2014 team preview: Oakland Athletics
The Oakland Athletics are coming off two straight AL West championships. Will it be a three-peat? Let's preview the A's.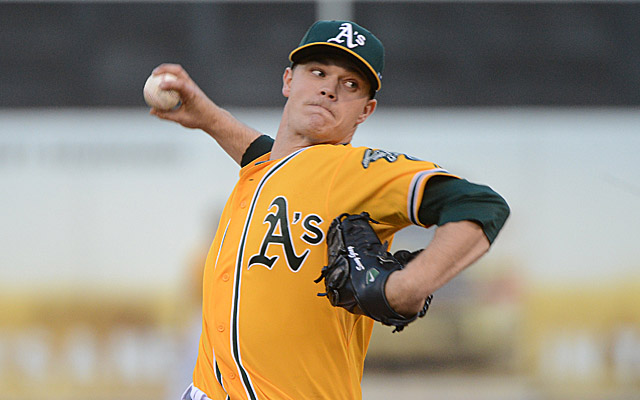 More: Likes, dislikes | Over/unders | All Team Previews | Spring Training
After five straight seasons without a playoff berth, the 2012 Oakland Athletics surprised nearly everyone and made a historic comeback to take the AL West championship on the last day of the regular season. They followed that up with an encore performance last season, winning 96 games and taking home their second straight AL West title.
Unfortunately for the A's, both of those seasons ended with a loss in Game 5 of the ALDS to the Tigers.
Mad scientist General manager Billy Beane has kept his nucleus mostly intact but still done some of his customary roster shuffling. Will this be enough to finally get his elusive World Series ring?
Probable lineup
1. Coco Crisp , CF
2. Josh Donaldson , 3B
3. Jed Lowrie , SS
4. Yoenis Cespedes , LF
5. Brandon Moss , 1B
6. Josh Reddick , RF
7. Alberto Callaspo , 2B
8. John Jaso , DH
9. Derek Norris , C
Bench - 1B Daric Barton ; IF Eric Sogard , IF Nick Punto , OF Craig Gentry
Pinning down a normal lineup for the A's is a task in futility, so feel free to play around with the above names and more (we'll get to that later). Their most common lineup last season was used five times and their second-most lineup was used three times. The only player who hit in a certain lineup spot more than 75 times was Crisp, who led off 127 times. With all the flexible players on the roster, figure the mix-and-match approach that has served Bob Melvin and his troops so well the past two seasons to continue.
This offense ranked third in the AL in runs last season and boasted four players with at least 22 homers. They were also second in the AL in doubles and fourth in triples. Expect a similarly well-rounded offense, even if the club seems to lack a national superstar like Miguel Cabrera or Mike Trout .
Probable rotation
1. Jarrod Parker
2. Scott Kazmir
3. Sonny Gray
4. Dan Straily
5. A.J. Griffin
There are also a few other options, with Tommy Milone leading the pack. Drew Pomeranz and Josh Lindblom could also figure in at some point.
The A's did lose All-Star Bartolo Colon , but this young group has pretty good upside. Of course, there's downside, too, whenever you're talking about such a young and relatively inexperienced group along with an injury-risk type in Kazmir.
Probable bullpen
Closer - Jim Johnson
Setup men - Ryan Cook , Luke Gregerson , Sean Doolittle
Middle men - Danny Otero, Fernando Abad
Long man - Jesse Chavez
Johnson was acquired in a trade to take over closing duties from the departed Grant Balfour . Johnson led the majors in saves in each of the past two years (51 and 50, respectively), but he also led the majors in blown saves last season with nine. He did save his last 11 games without blowing one and also had a 0.57 ERA during that stretch, so that's a good sign. Doolittle and Cook miss bats and serve as excellent setup men -- Doolittle in particular has shown a great penchant for stranding inherited runners. Gregerson will serve as an outstanding addition, too. More ...
Under-the-radar offseason transaction
Eric O'Flaherty was signed to a two-year, $7 million deal this past offseason. He had Tommy John surgery last May, so he won't be with the big-league club any sooner than June and maybe even not until August. But once he's back, there's a good chance he'll serve as a major force out of the bullpen during the pennant race. In his last three seasons with the Braves, the left-hander had a 1.45 ERA and 1.09 WHIP with 124 strikeouts against 34 unintentional walks. Like Doolittle, O'Flaherty has been a master of leaving guys on base that he didn't put there. In fact, in 2012 he inherited 22 runners and only one (!) scored. Once he's back, he'll make an already good bullpen even better down the stretch.
Fantasy injury risk sleeper: Scott Kazmir

"Kazmir gave us a nice comeback story last year, just by virtue of cracking the Indians' rotation and staying there through the end of the season. What he accomplished, especially from late June on, was actually much more impactful than simply winning and keeping a job. Kazmir gave owners strikeouts all year long, and his 4.04 ERA and 1.32 WHIP obscure how dominant he was over his final 18 starts. Over that three month-plus stretch, he posted a 3.06 ERA and 1.15 WHIP, as he threw more than two-thirds of his pitches for strikes and recovered from poor early luck with hits on balls in play. As long as Kazmir doesn't revert to his prior history of injuries and wildness, he has a shot at pitching like a top 30 starter." - Al Melchior [Full A's fantasy team preview]
Biggest strength
Roster depth. The A's can absorb injuries unlike most ballclubs because they are chock full of replacement options all over the place. Injuries in the infield could mean starting time for Punto or Sogard in several different spots while there's also Barton or Nate Freiman as options at first base. Stephen Vogt is another catcher option while big-time shorstop prospect Addison Russell could figure in the mix at some point -- even if he's a longshot to do so this year. Moss could play the outfield if need be and Gentry is a fine fourth outfielder who will provide excellent defense. Speaking of which, Sam Fuld provides organizational depth as a great defender as well. Michael Taylor could also figure in.
The pitching depth is covered in the "likes" section of our preview package, as the A's have at least six quality options and up to nine serviceable ones. The bullpen again will be good and it gets even deeper once O'Flaherty is back.
Biggest weakness
This is a tough one. The A's aren't overly awesome at anything -- except for winning, which is the only thing that matters -- but they aren't really bad anything either. Perhaps the lack of a true, battle-tested ace? It's possible Gray becomes one, especially after he announced his presence with authority in the playoffs, but he was outdueled by Justin Verlander in an elimination game -- and it was the second straight year Verlander took them out. Without an ace like that, the A's may again be screwed in the postseason.
Outlook
The AL West can be pretty strong, but the Angels, Rangers and Mariners all have far more questions to answer than the A's. While some may have thought the 2012 incarnation was a fluke, last season's A's should have more than proven this group cannot be underestimated.
Some stumbling blocks could come in the form of the young starting pitchers struggling, the offense not performing consistently well due to a low batting average and high strikeouts, Johnson blowing too many games or simply regressing as the rest of the division improves.
The smart money, however, is on a third-straight AL West championship.
---
Coming Thursday: Previewing the Seattle Mariners
Show Comments
Hide Comments