Anibal Sanchez becomes first Tiger with four strikeouts in one inning
Tigers starter Anibal Sanchez did something in ALCS Game 1 that hadn't been done since the 1908 World Series.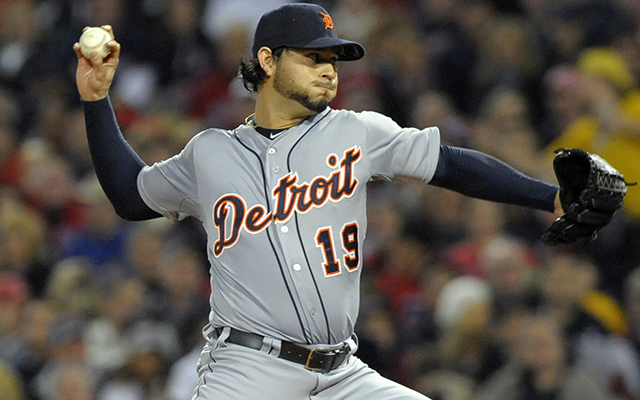 -- Follow ALCS Game 1 live with CBS GameTracker --
BOSTON -- It didn't take long for the American League Championship Series to provide an amazing highlight. In the very first inning of the series, Tigers right-hander Anibal Sanchez struck out four Red Sox batters. Shane Victorino, the second of the four strikeouts, reached base on a wild pitch.
Four strikeouts in an inning is rare but it does happen a handful of times during the regular season. The postseason is another matter entirely. This was the first four-strikeout inning in the playoffs since Orval Overall with the Cubs in the 1908 World Series (!).
Furthermore, no Tiger had ever struck out four batters in one inning, regular season or postseason. The Tigers have been around forever (since 1901, to be exact), so this is truly unbelievable. This might be more impressive than the postseason thing.
Anyway, if the last time something happened was the last time the Cubbies won the World Series, you know you just witnessed something cool.
Show Comments
Hide Comments