Hideki Matsui announces retirement
Hideki Matsui has decided to retire from Major League Baseball, the 38-year-old announced on Thursday.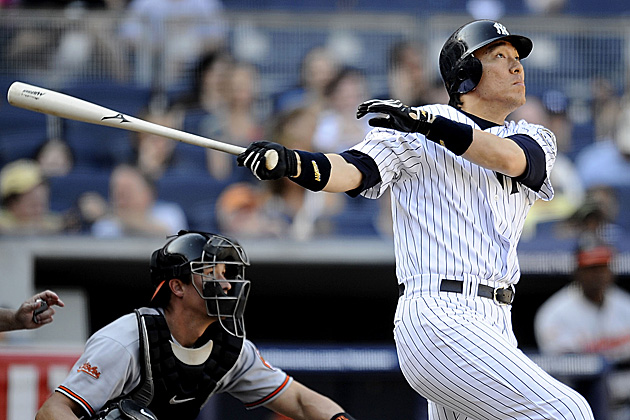 Matsui retires with 175 career MLB homers. (Getty Images)
Hideki Matsui announced his retirement from Major League Baseball on Thursday.
Matsui's retirement comes as little surprise, as he's coming off a season where he hit .147/.214/.221 in 103 plate appearances for the Rays. Basically, his career as a player has run its course.
Prior to coming to Major League Baseball, Matsui played for the Yomiuri Giants in Nippon Professional Baseball for 10 years -- where he was a three-time Central League MVP. He came to America with the nickname "Godzilla," and lived up to his reputation upon joining the Yankees and becoming a solid run producer.
"Hideki is proof that baseball is an international attraction that brings people from all over the world together in their passion for the game," Yankees general manager Brian Cashman said in a statement released by the team. "He was the type of player and person you want young fans of this game to emulate. He played with pride, discipline and of course talent, and flourished when the lights were at their brightest. People naturally gravitated towards him, and that's a direct reflection of his character. He was a true professional in every sense of the word and it feels good knowing he was able to raise the championship trophy as a member of the Yankees."
Matsui, 38, hit .282/.360/.462 with 1,253 hits, 175 homers and 760 RBI in his 10-year major-league career. He had four seasons of at least 100 RBI and five seasons with at least 20 home runs. 
Matsui was a two-time All-Star and a World Series champion. In 2009, when Matsui won his only ring, he was the World Series MVP for the Yankees after hitting .615/.643/1.385 with three homers and eight RBI in 14 plate appearances.
"I've said it numerous times over the years, but it's worth repeating now. I've had a lot of teammates over the years with the Yankees, but I will always consider Hideki one of my favorites," Yankees shortstop Derek Jeter said in a statement released by the team. "The way he went about his business day in and day out was impressive. Despite being shadowed by a large group of reporters, having the pressures of performing for his fans both in New York and Japan and becoming acclimated to the bright lights of New York City, he always remained focused and committed to his job and to those of us he shared the clubhouse with. I have a lot of respect for Hideki. He was someone we counted on a great deal and he's a big reason why we became World Champions in 2009."
Though the outfielder/designated hitter played for the Angels, Athletics and Rays in his final three seasons, Matsui will obviously be most remembered for his seven-year stint with the Yankees.
For more baseball news, rumors and analysis, follow @EyeOnBaseball on Twitter, subscribe to the RSS feed and "like" us on Facebook.