Johan Santana has a 'probable' re-tear of left shoulder capsule
Mets left-hander Johan Santana has a 'probable' re-tear of his left shoulder capsule, GM Sandy Alderson announced.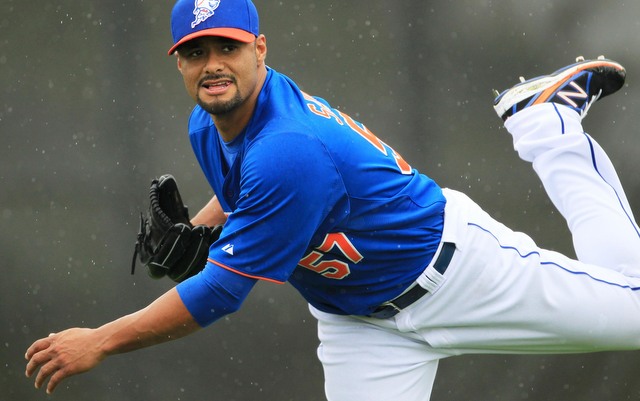 Mets left-hander Johan Santana has a "probable" re-tear of his left shoulder capsule, GM Sandy Alderson announced on a conference call Thursday. He was examined in New York and a second opinion confirmed the diagnosis. Alderson said surgery is a "strong possibility."
More on Mets' Santana
Analysis

Related links
Santana, 34, first tore the capsule and required surgery in September 2010. He missed the entire 2011 season and went 6-9 with a 4.85 ERA in 21 starts in 2012 before his season ended in mid-August due to ankle and back problems.
Alderson said it's unclear when the re-tear may have occurred. Santana was shut down early in the spring in an effort to build arm strength, but it became obvious in recent weeks he would miss the start of the season. The injury may have occurred long before symptoms showed.
A torn shoulder capsule is among the most serious injuries a pitcher can suffer. Mark Prior, Chien-Ming Wang, John Maine, Chris Young, Rich Harden and Dallas Braden all needed surgery for a torn capsule and none was able to recapture their previous form. A second procedure would surely end Johan's season and possibly his career.
Since landing in New York as part of a five-player trade with the Minnesota Twins in February 2008, Santana has gone 46-34 with a 3.18 ERA in 109 starts for the Mets. He went 40-25 with a 2.85 ERA from 2008-10 before the first capsule tear, earning two top-five finishes in the NL Cy Young voting.
On June 1 of last season, Santana threw the first no-hitter in Mets history. He needed 134 pitches in the win over the Cardinals, a career-high and the first time he threw more than 120 pitches in an outing since June 2010. Following the no-hitter, he pitched to an 8.27 ERA in 10 starts before the ankle and back problems forced him to the DL.
During his prime with the Twins, Santana was arguably the most dominant pitcher in baseball. He went 70-32 with a 2.89 ERA and 9.7 K/9 from 2004-07, winning the 2004 and 2006 AL Cy Young Awards. During that four-year span he led all pitchers (minimum 50 starts) in wins, strikeouts (983), opponent's OPS+ (60) and WAR (27.3). He placed second in innings (912 1/3) and ERA+ (155).
Santana was originally signed by the Astros out of Venezuela back in 1995, but they lost him to the Marlins in the 1999 Rule 5 Draft. Florida turned around and traded him to the Twins for minor-leaguer Jared Camp the same day.
There is $31 million left on Santana's contract and Alderson said the deal is not insured, which is surprisingly common.
Show Comments
Hide Comments
Our Latest Stories
Raisel Iglesias hurt his elbow and hips taking a misstep in the shower

Forbes has named Cubs executive Theo Epstein the world's greatest leader

Kinsler seemed to disparage players from Puerto Rico and the Dominican Republic for showing...
From Adam Jones' catch to Jose Bautista's throw. Here are the best moments of the 2017 WBC

What makes a successful Phillies season? First off, the youngsters need to keep progressin...

How a chance trip to the WBC championship game turned me from skeptic to believer