Jose Fernandez rises to the top of deep and talented NL rookie class
Jose Fernandez was named the NL Rookie of the Year on Monday, but let's not forgot how incredibly deep the class of freshman players was in 2013.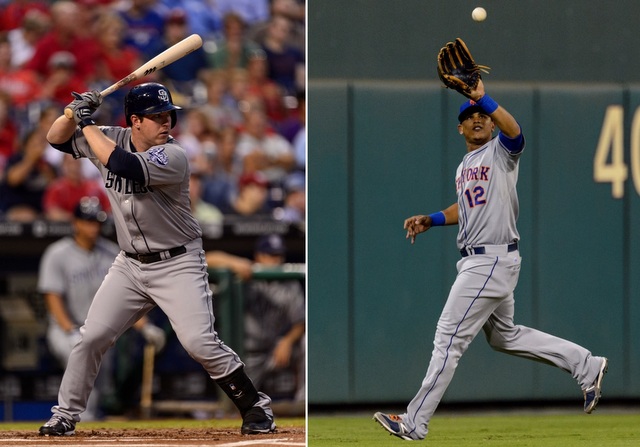 MORE: EOB rookie ballots
To very little surprise, Marlins right-hander Jose Fernandez was named the NL Rookie of the Year on Monday night. He wasn't just great this year, he was historically great. So historically great that his finish in the Cy Young voting will be far more interesting than his Rookie of the Year award.
Hernandez headlines a deep NL rookie crop that was not short on legitimate Rookie of the Year candidates. Their freshman class was among the best ever. Runners-up Yasiel Puig and Shelby Miller would have won the award hands down in a typical year, ditto Hyun-Jin Ryu and Julio Teheran. Guys like Trevor Rosenthal and Gerrit Cole might notget any votes because the competition is so stiff.
According to FanGraphs, 11 NL rookies posted at least 2.0 WAR in 2013. The AL only had two (Wil Myers and David Lough). Four NL rookies managed to top 3.0 WAR (none in the AL). Both Fernandez and Puig exceeded 4.0 WAR. It was a freshman group that featured star power, above-average regulars and solid everyday options. Here's a look at the depth of the NL rookie class broken down into various categories.
Stars Today, Stars Tomorrow: Fernandez (4.2 WAR) and Puig (4.0)
There is more to being a star than just on-field excellence. There should also be a "wow" factor, a "I can't wait to see what this guy does next" appeal. Fernandez and Puig most definitely have that "wow" factor in addition to the on-field dominance. Barring injury, they'll be among the game's most talked about players (for better or worse) for the foreseeable future.
Young Arms: Ryu (3.1 WAR), Teheran (2.4), Cole (2.3), Rosenthal (2.2), Miller (2.1)
I'd be happy if my favorite team had just one of these guys. Any one, you get to pick. The NL crop of rookie pitchers was off-the-charts good, with lefties and righties, starters and relievers. Three of the five pitchers in this category started a postseason game and another was the closer on the NL pennant-winning team. The only exception (Miller) was essentially shut down due to workload concerns.
Better Than You Realized: A.J. Pollock (3.6 WAR) and Juan Lagares (2.7)
Neither Pollock (100 OPS+) nor Lagares (80 OPS+) stood out for their bats this past season, they instead stood out for their gloves. According to fielding stats like DRS and UZR, they were two of the three best defensive center fielders in the league (along with Carlos Gomez). Not every rookie position player has an impact with the bat, but having an impact in the field is just as important. These two changed games with their gloves.
Already Good And Getting Better: Nolan Arenado (2.7 WAR) and Jedd Gyorko (2.5)
Like Pollock and Lagares, Arenado was valuable this year because of his glove. So valuable that he became just the 10th rookie to win a Gold Glove and the first rookie third baseman to do so since 1957. Gyorko transitioned to second base in deference to Chase Headley with ease and led the Padres with 23 home runs. His 113 OPS+ was third best on the team among qualified hitters. There is every reason to expect these two to continue to get better, both on the field and at the plate. When these two are afterthoughts in the Rookie of the Year race, you know it was a banner season for first-time players.
Show Comments
Hide Comments