Josh Hamilton goes 0 for 3 in Cactus League debut for Angels
Josh Hamilton made his Cactus League debut for the Angels on Tuesday.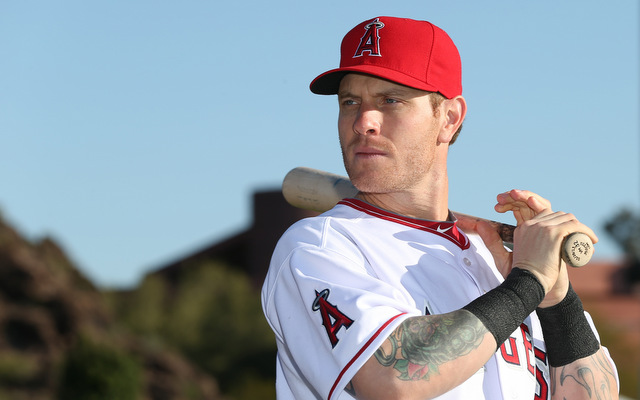 After signing a five-year, $125 million contract with the Angels over the winter, outfielder Josh Hamilton made his spring training debut with his new team on Tuesday. He played five innings and went 0 for 3 at the plate, grounding to short his first time up and flying out to center the other two times. He also made two routine plays defensively in right field.
"It was weird today, being in the dugout and having the uniform actually on," said Hamilton to MLB.com's Alden Gonzalez after the game. "I walked by [Jered Weaver] and said, 'This is kind of weird.' He said, 'Yeah, it is, but I like it.' Getting that first one out of the way, you know. Just part of it ... You get those little jitters, I guess, when you're walking up to the plate, get your first at-bat, first live pitching, that sort of thing. But it was a fun day. It's just a different environment, man. I'm excited to be a part of it."
Obviously, the first three at-bats of the Cactus League season mean nothing. They mean so little that Hamilton didn't even use his own bat for his third plate appearance -- he grabbed Mark Trumbo's bat from the on-deck circle after breaking his on the previous pitch. The first at-bat was typical of what we saw from Hamilton late last year, meaning he rolled over on the first pitch he saw, which is probably something that made Rangers fans cringle. The second at-bat lasted two pitches, the third seven pitches.
Hamilton is going to hit, that is pretty much a foregone conclusion. He'll run into the occasional slump like everyone else, but his slumps tend to be a little more frustrating for fans because a) he becomes a total hacker, and b) his talent is so immense. Getting accustomed to right field is arguably more important for Hamilton this spring after playing just 70 games (66 starts) there in his big-league career, none since 2009. That won't take much time nor should it be much of a problem.
It would have been neat to see Hamilton came out of the gate and launch some balls out of Tempe Diablo Stadium on Tuesday, but he didn't come particularly close, and that's OK. The Angels pay him a lot of money to do that in the regular season and in October, when the games count. Fair or not, the contract and his off-the-field demons mean Hamilton is under a perpetual microscope, so this is one of those rare days in which he can take an 0-for-3 and walk off the field feeling good about how things went.
For more baseball news, rumors and analysis, follow @EyeOnBaseball on Twitter, subscribe to the RSS feed and "like" us on Facebook. Also, individually interact with us on Twitter: @MattSnyder27, @daynperry and @mikeaxisa.

Show Comments
Hide Comments