Mariners are talking to free-agent lefty Chris Capuano
There is no deal yet, but the Mariners have shown interest in signing a starter, and settling on Chris Capuano could leave money for them to sign another hitter.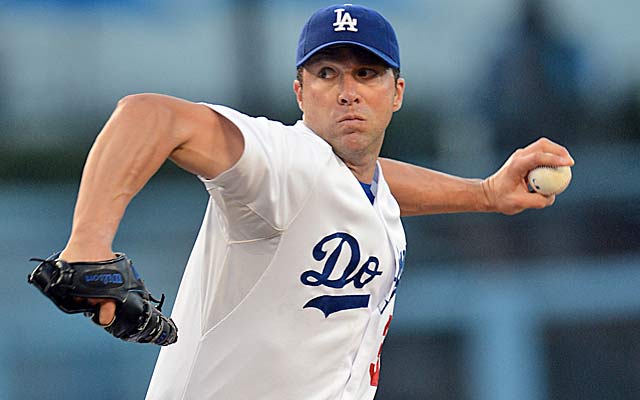 The Mariners are talking to free-agent pitcher Chris Capuano about a possible deal.
Nothing is done yet, but Seattle has shown decent interest in Capuano. There still may be a difference of opinion over the price but discussions are ongoing, according to people familiar with the talks.
Mariners GM Jack Zduriencik knows Capuano from his best seasons in Milwaukee.
Reportedly, the veteran lefty has been seeking a two-year deal.  He went 4-7 with a 4.26 ERA last season for the Dodgers but won 23 games the previous two years for the Mets and Dodgers.
Seattle also has had discussions with top free-agent starters Ubaldo Jimenez, who agreed to a $50 million, four-year deal with the Orioles, and Ervin Santana. If the Capuano talks bear fruit, that could leave more money to sign a hitter, such as Kendrys Morales.
Show Comments
Hide Comments
Our Latest Stories
Umpires also use spring training to get back into game shape, you know

Braves catcher Matt Foley paid homage to an SNL character

Joe Nathan was one of the best closers of his generation. Now his career may be over
Can the Orioles finally break through and make a World Series with Buck Showalter?

The franchise catcher is in his walk year, and two sides appear open to a contract extensi...