Method to Mattingly's madness? Goal definitely was NOT to be axed
The Dodgers' beleaguered manager isn't looking for a pink slip, just effort and results.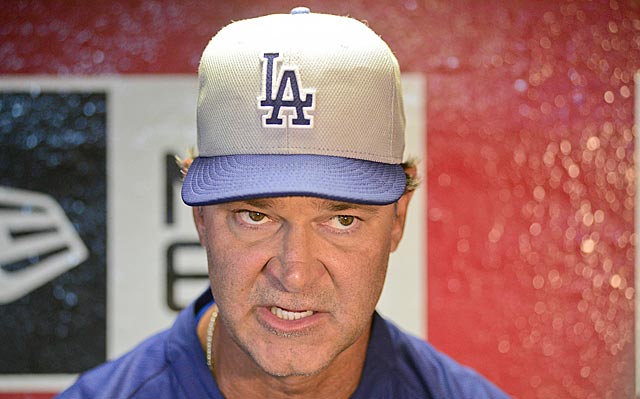 Donnie Baseball doesn't have a death wish.
Embattled Dodgers manager Don Mattingly dared say aloud precisely what a lot of folks think about his highly paid, underachieving Dodgers team, which is that they are talented enough but may lack necessary grit and toughness.
It's hard to disagree. Yet, suddenly there are conspiracy theories all over the Internet, purporting to suggest some hidden meaning behind what seemed like plainly obvious thoughts.
Mattingly must know he's about to be axed, one person wrote.
He essentially fired himself, another suggested.
He's trying to get fired, several opined. As if this something normal folks do.
News flash: People like their jobs, especially when they are dream jobs they've been waiting for years to have. Unless there is some rare extenuating circumstance (i.e. they have lost their minds, they are working for Steinbrenner in the '80s), people do NOT try to get themselves fired.
The Dodgers may well fire him; he's been on the clock since the return of Zack Greinke a week ago, as his bosses are said to have wanted to see the injury-wrecked team operate at close to full strength. The Los Angeles media outlets are treating him like he's not much better than day-to-day, and perhaps that isn't too far off.
According to one breathless Los Angeles Times report Wednesday, he's safe until Friday. Well, that's surely a relief.
It's fair to say that it's become apparent he may well get fired (if not Friday, there's always Saturday or Sunday). But if he does get fired, it's not because he wanted to be canned.
Here is my theory, and I'll warn you that it's a lot less interesting than the claim he's itching to be axed.
Here goes: Mattingly is frustrated by his underperforming team, and he spoke the truth, either because it made him feel better or hoped it might spark his spark-less team.
Yes, yes, I know, the "trying to get fired" story is a lot more intriguing. But that doesn't mean there's one ounce of validity to it.
Here's the heart of what he said, and really, it's hard to argue with any bit of it.
"We gotta find a team with talent that will fight and compete like a club that doesn't have talent," Mattingly said. "I felt we got more out of our ability last year. I don't know about being tougher, but I felt we got more out of our ability.
"There has to be a mixture of competitiveness. It's not, 'Let's put an All-Star team together and the All-Star team wins.' It's finding that balance of a team that has a little bit of grit and will fight you. And also having talent to go with it.
"All grit and no talent isn't going to make you successful. But all talent and no grit is not going to get you there, either."
I say good for Mattingly. I say, too, he's right.
The $220 million Dodgers are 19-26, not because they have been especially gritty or have out-competed teams. But didn't everyone know that already?
Yes, of course some of their start is Mattingly's responsibility, and he didn't claim it wasn't. He's not looking for gold stars. He's not claiming to be doing a great job when he's essentially admitting they are underperforming their ability.
And yes, some of it is on his bosses. When a team is underperforming, expectations this badly, there is plenty of blame to go around. And should be.
Mattingly may be taking a bit of a risk questioning the idea that the forming of an All-Star team was a less-than-perfect game plan, and maybe someone above him who doesn't own a mirror will get sensitive and say Mattingly can't say those things about the team's architects and bosses. But guess what, it seems obvious to everyone else, everyone on the outside.
Mattingly's toughest comment was saved for outfielder Andre Ethier, who's done very little since signing early last season for $85 million over five years. Folks aren't used to hearing managers criticize star players (Bobby Valentine was almost thrown out of Boston solely for saying something critical about Kevin Youkilis last year, and eventually he was), but Mattingly is a guy who worked and competed with anyone when he played. And his standards are high.
Mattingly is also a guy who has coached and managed Ethier for several years now, long enough to form a reasonable opinion. And while Ethier's rep isn't exactly terrible, he did frustrate Joe Torre and Larry Bowa at times, too.
Ethier has been seen as a guy who could be moody, and it's fair to say Mattingly's explanation for why he was being benched probably can't help his mood, at least not initially.
Mattingly, in explaining why Ethier was out of a lineup against a righthander, Wily Peralta, provided his most pointed remark of what might have been a cathartic day for him, saying, "For me, today, I'm putting out my lineup that I feel is going to be the most competitive and going to compete the hardest."
What Mattingly said about Ethier is admittedly tough. But it was funny to see him getting ripped for making some pointed remarks after being questioned forever for being too laid back.
It's like he can't win, on the field or off.
Sure, he is laid back, and he's likeable. But he has his breaking point.
Mattingly treats the players like men. So it's natural he expects them to reward the respect he shows by playing hard all the time and being mentally tough. If he believes they aren't doing even that, it's normal for him to be upset.
Sometimes a little honesty is exactly what a team needs, anyway. Occasionally, it even lights a fire under said team.
The Dodgers did play one of their better games of the year in beating the equally disappointing Brewers, 9-2, after Mattingly made his remarks.
So maybe his remarks served a purpose. And that purpose definitely was not to get himself canned.
Show Comments
Hide Comments