MLB changes ruling on 'hit' that broke up Jeremy Guthrie's no-hit bid
Major League Baseball took away a hit from Paul Konerko of the White Sox from the seventh inning of Sunday's game in Kansas City. The "hit" was the first of the game against Royals starter Jeremy Guthrie.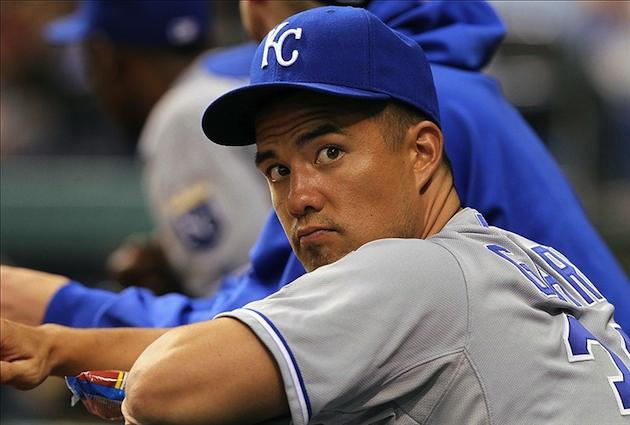 Jeremy Guthrie is 2-3 with a 3.23 ERA in six starts since joining the Royals. (US Presswire)
It's probably a little too late to put the no-hitter watch up -- considering Jeremy Guthrie's bid was ruined by a bad call on Sunday. 
Against the White Sox on Sunday, Guthrie had a no-hitter through 6 2/3 innings before Paul Konerko's grounder to shortstop Alcides Escobar, who made a nice play to backhand the ball, but then Eric Hosmer couldn't come up with the ball on a bounce. The official scorer ruled it a hit, despite the fact Konerko was a full two steps from the bag when the ball bounced off Hosmer's glove. On Wednesday, that ruling was changed to an error on Escobar, according to MLB.com.
Guthrie got Alex Rios to strike out swinging for the third out of the seventh. With two outs in the eighth, Guthrie gave up back-to-back singles by Dayan Viciedo and Ray Olmedo before being replaced by Tim Collins. Those two scored on an error by Hosmer, so he wasn't charged with any runs. 
There's no way to tell what would have happened had the play been scored properly -- but now the record shows that Guthrie allowed just two hits -- instead of three -- in 7 2/3, it's just that nobody's going to be looking it up in years to come.
It should be noted that the official scorer had a rough game -- as another call was reversed while the appeal on a third was denied. Hosmer was granted a double on a play previously scored as an error on White Sox third baseman Kevin Youkilis, while MLB upheld the ruling of a single and an error for Alex Gordon in the third inning.
In the end, it doesn't mean much in the grand scheme of things, but I do like that at least there's a process to challenge scoring decisions and making the call right in the end.
For more baseball news, rumors and analysis, follow @EyeOnBaseball on Twitter, subscribe to the RSS feed and "like" us on Facebook.
Show Comments
Hide Comments