Oddsmakers go with Giancarlo Stanton in Home Run Derby
Bovada.lv has spoken, and Marlins slugger Giancarlo Stanton is the favorite to win the 2014 Home Run Derby.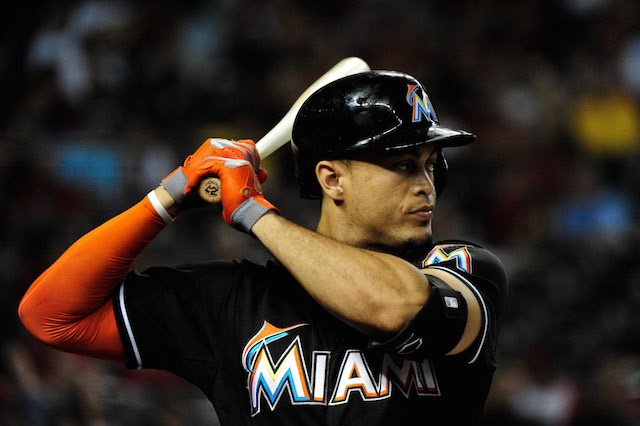 Related: Eight Derby participants announced
File under: smart money. According to Bovada.lv (@BovadaLV), Marlins masher Giancarlo Stanton is the favorite to win the forthcoming 2014 Home Run Derby at Target Field in Minneapolist. Here's the full run-down of the odds headed in to Monday's festivities ... 
2014 Home Run Derby - Odds to Win     
Giancarlo Stanton: 2/1
Yoenis Cespedes: 5/1
Jose Bautista: 5/1
Yasiel Puig: 6/1
Troy Tulowitzki: 13/2
Josh Donaldson: 10/1
Adam Jones: 12/1
Brian Dozier: 12/1
Todd Frazier: 12/1
Justin Morneau: 15/1
So ... who ya got?
Show Comments
Hide Comments
Our Latest Stories
Raisel Iglesias hurt his elbow and hips taking a misstep in the shower

Forbes has named Cubs executive Theo Epstein the world's greatest leader

Kinsler seemed to disparage players from Puerto Rico and the Dominican Republic for showing...
From Adam Jones' catch to Jose Bautista's throw. Here are the best moments of the 2017 WBC

What makes a successful Phillies season? First off, the youngsters need to keep progressin...

How a chance trip to the WBC championship game turned me from skeptic to believer