Pirates designate Garrett Jones for assignment among several moves
The Pirates made a few minor moves Monday, including designating Garrett Jones for assignment. Also of note: Trading for minor-league on-base specialist Jaff Decker.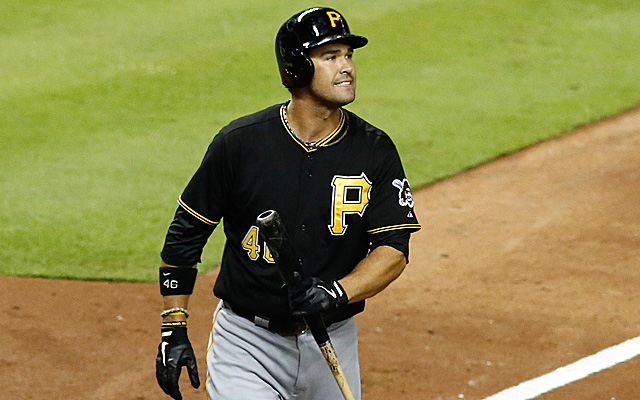 The Pittsburgh Pirates made a few roster moves Monday, with the most notable to national fans being Garrett Jones designated for assignment.
The Jones move came as a result of a trade that landed the Pirates outfielder Jaff Decker and right-handed pitcher Miles Mikolas from the Padres for minor leaguer Alex Dickerson. The Pirates needed to clear two roster spots from the 40-man, so Jones and pitcher Kyle McPherson were DFA'd.
Of particular intrigue on the above moves if Decker, a 23-year-old corner outfielder who is a good on-base guy. He hit .286/.381/.443 with 23 doubles and 10 homers in 105 games for Triple-A Tucson last season. In his minor-league career, Decker has a .402 on-base percentage compared to a .268 average. So he's definitely strong in plate discipline.
Jones, 32, has been with the Pirates for the past six seasons. He hit .233/.289/.419 with 26 doubles, 15 home runs and 51 RBI last season, though in 2012 he hit .274/.317/.516 with 27 home runs and 86 RBI.
Over the course of his career, Jones has been pretty well owned by fellow lefties, but he has hit right-handers quite well. As such, don't expect him to be out of a job heading into next season. He'll catch on somewhere, likely as a power bat off the bench.
As for the Padres' acquisition, Dickerson -- a 23-year-old left-handed power hitter -- hit .288/.337/.494 with 36 doubles and 17 homers in 126 games for Double-A Altoona last season.
Show Comments
Hide Comments