Report: Red Sox pursuing Carlos Beltran and it makes so much sense
The Red Sox are looking at Carlos Beltran as a possible Jacoby Ellsbury replacement and he's almost a perfect fit.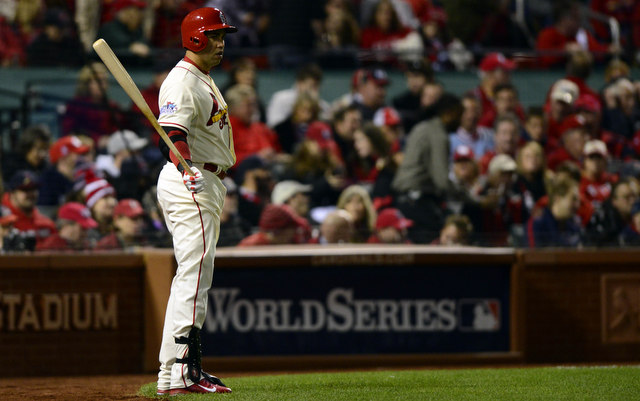 RELATED -- Heyman: Red Sox have interest in Tim Hudson
The reigning World Series champions are not sitting around early in the offseason. George A. King III of the New York Post reports the Red Sox have strong interest in free-agent outfielder Carlos Beltran and are pursuing him more aggressively than AL East rivals New York and Baltimore.
In all likelihood, the Red Sox view Beltran as a replacement for Jacoby Ellsbury , who is expected to leave the team for a nine-figure contract elsewhere. Boston could shift Shane Victorino to center field and the leadoff spot with Beltran taking over in right field and the second spot in the lineup. It makes perfect sense.
Beltran, 36, hit .296/.339/.491 (128 OPS+) with 24 home runs in 600 plate appearances for the Cardinals in 2013. He fits the Red Sox mold as a hitter who works deep counts, fouls off a bunch of pitches and hits for power. As a bonus, he's a switch-hitter and his generation's best postseason hitter. There is no concern about him in a pressure-packed market like Boston.
On the downside, Beltran figures to need more time at DH at this point of his career, and Boston is obviously set there with David Ortiz. Beltran is also likely to reject the $14.1 million qualifying offer from St. Louis before Monday's deadline, meaning it will cost a high draft pick to sign him. Those are minor nuisances compared to the potential reward.
At this point of his career, with hundreds of millions of dollars in the bank and a strong Hall of Fame case, Beltran figures to prioritize the chance to win when picking a new team this winter. He won't require a long-term contract and is still incredibly effective. Beltran appears to be a near-perfect fit for Boston.
Show Comments
Hide Comments
Our Latest Stories
The franchise catcher is in his walk year, and two sides appear open to a contract extensi...

The good news is that an MRI showed no structural damage
He was re-assigned to minor league camp on Sunday

Brian Havrilla has done important work

Young Brody Chernoff, son of Mike Chernoff, was a guest in the Indians' radio booth recently,...