Start vs. Italy helps Weaver and Angels, but not the WBC
Jered Weaver was fine with pitching against Team Italy in an exhibition game Wednesday, and he looked good and felt great. So why couldn't he have faced Italy Saturday night for Team USA? Weaver was one of many big-name starters to turn down the tournament, and he had his reasons.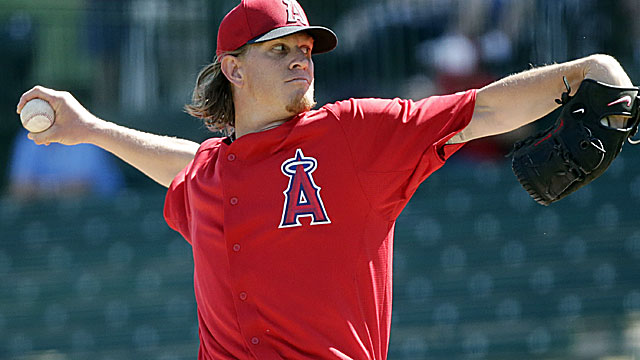 Jered Weaver likes the WBC concept so much that he says he'll watch every game he can.
(Getty Images)
TEMPE, Ariz. -- Jered Weaver looked good against Team Italy on Wednesday.
That's great news for Weaver, and great news for the Angels. It's terrible news for the World Baseball Classic.
"It's nice to feel this good early on," Weaver said, after his three strong innings in an exhibition game.
Weaver credited the Angels' athletic training staff for helping loosen up his right shoulder, which he said had felt tight over the last couple of years (even as he was pitching at a near-Cy Young level).
"I haven't had this range of motion in a while," he said. "I can go back to my normal arm slot. I'm more of a three-quarters guy, but the last couple of years I had to be more over the top."
He feels good. He feels strong. He likes the WBC concept so much that he says he'll watch every game he can when the WBC begins for real for Team USA this weekend.
But Weaver still didn't want to pitch for Team USA this month.
"Maybe if they'd figure out a better time to have it," Weaver said.
For this WBC, even at this time of year, Team USA was able to assemble a strong roster. The biggest problem was finding top starting pitchers.
It wasn't just Weaver. Justin Verlander, David Price and Clayton Kershaw, among others, also turned down the chance to pitch.
Most gave the same reasons Weaver did. Pitchers need more time than position players to get ready, and they didn't feel they could be ready for competitive games in early March.
"I would be quite to where I needed to be," Weaver said. "I think it would be a little tough to go out with your best stuff now. If I had to go out and turn it on, I think it would be a little tough.
"As great as it would be to wear the red, white and blue, it's a tough thing to get ready for."
Weaver threw 52 pitches Wednesday against Team Italy. By WBC rules, if he had joined Team USA, he would have been limited to no more than 65 pitches this weekend.
He allowed Italy one run in three innings, with five strikeouts. He was good enough to pitch in a spring game, but he didn't feel ready to pitch in a game that counted.
He was comfortable facing Team Italy on Wednesday. He didn't want to face them in a WBC game on Saturday.
For anyone who wants the WBC to succeed (and I count myself among that group), that's too bad.
Show Comments
Hide Comments