Tigers: Iglesias may well miss '14 season with shin fractures
With Jose Iglesias out at least five months, the Tigers will have to find a shortstop.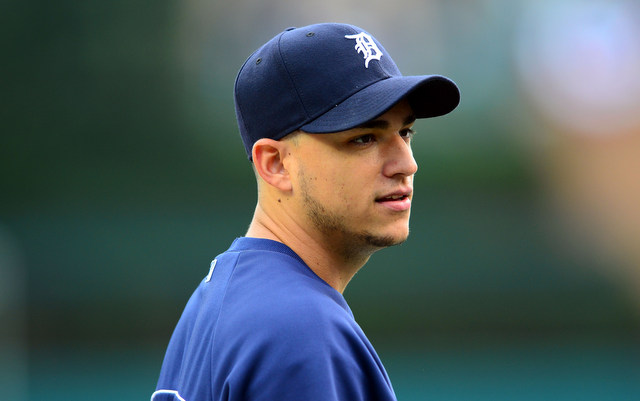 MORE: Spring Training | Scoreboard | Team previews
VIERA, Fla. -- Tigers shortstop Jose Iglesias, the second-place finisher in AL Rookie of the Year voting last year, will likely miss the 2014 season due to stress fractures in his lower legs, though the team hasn't ruled out the possibility he could make a late appearance before the season concludes.
Tigers president and general manager Dave Dombrowski ackowledged that Iglesais is "more unlikely than likely" to play this season after the fractures in both tibias were confirmed in a CT scan. Iglesias is due to be limited to "non weight-bearing" activities for four to six months, but will be re-evaluated in four months. So the best-case scenario would have been back in five months should he be determined to be healed when he is re-evaluated.
Dombrowski added that he has been told that Iglesias will be fine to play the 2015 season.
However, it is clear the Tigers aren't counting on Iglesias being back in 2014 after a "rare" diagnosis of fractures. Further tests are being done to determine a possible root cause of such an unusual injury.
Doctors were surprised there was no progress on the problem area during the four-month offseason following a season when he was thought to have shin splints. "They're looking to see what the determination is," Dombrowski said. "Normally this will heal."
Iglesias was thought to have had shin ailments back with the Red Sox last year, but an X-Ray and MRI failed to find the fractures, which was discovered with the CT scan.
Iglesias will undergo bone stimulation and have shots, and he will be limited to activities such as swimming and biking for at least four months, the Tigers said.
The Tigers for now are going with Danny Worth and Hernan Perez as their shortstops, and manager Brad Ausmus indicated he may take until opening day to decide which way to go. Rival GMs see the Tigers, perhaps the American League favorite, as a prime candidate to make a trade.
"We're trying to win a championship," Dombrowski said. "We do what we can to win."
Dombrowski said he hasn't had extensive trade talks to this point, though it's known they have talked to the Diamondbacks, who have two young starting quality shortstops in Didi Gregorius and Chris Owings, with Gregorius seen as more likely to be moved than Owings. Top free agent shortstop Stephen Drew also would fit the Tigers, who are said to seek a good defender and prefer a left-handed hitter.
Dombrowski said some teams have already called with offers of defensive shortstops but he thinks he might have shortstops with adequate gloves in camp. Of course, Dombrowski acknowledged that they won't get anyone who can replicate the wizardry of Iglesias with the glove.
Show Comments
Hide Comments