Unheralded heroes for Cardinals: Trio of rookie relievers
Trevor Rosenthal, Kevin Siegrist and Seth Maness are all rookie relief pitchers for the Cardinals this season. And they form a dominant three-headed monster on the late innings, one that could prove a difference-maker in October.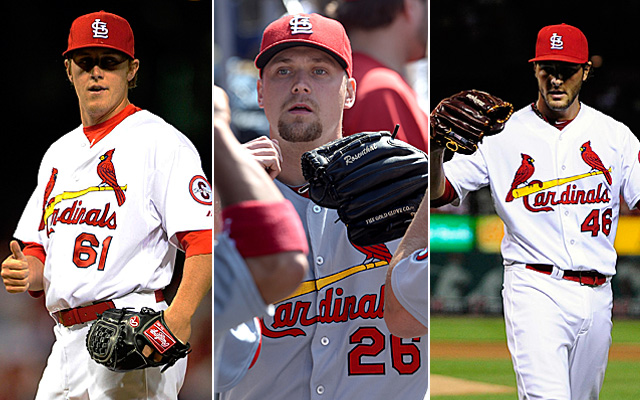 Related: Cardinals clinch NL Central title
Friday night, the St. Louis Cardinals clinched the 2013 NL Central title. They did so on the strength of many players. They have an outstanding offense. They have a true ace in Adam Wainwright followed by some great young arms in Shelby Miller, Joe Kelly and now Michael Wacha. They have an All-Star closer in Edward Mujica.
Overshadowed by all of the above is the job three rookie relief pitchers have done this season. I speak of Trevor Rosenthal (23 years old), Seth Maness (24) and Kevin Siegrist (24). The three rookies have combined for around 5.0 WAR this season, a season in which the Cardinals are going to win the NL Central by less than five games. What's more, the three contain nearly every aspect you'd want in a group of late innings pitchers. 
Rosenthal is the most nationally visible because he's stepped in as closer amidst Mujica's late-season woes. He also got some experience last August and September -- though maintaining his rookie eligibility for this season -- before an incredible showing in the playoffs (0.00 ERA, 0.46 WHIP, 15 strikeouts in 8 2/3 innings).
He's carried that over into a great 2013 season, in which he sports a 2.63 ERA, 1.10 WHIP and 108 strikeouts in 75 1/3 innings. He's also stranded 21 of his 26 inherited runners. He gets it done mostly with an overpowering, high-90s fastball, though he'll mix in a change or curve on occasion. Still, nearly 80 percent of his pitches are heaters -- and he's dominant.
Siegrist is also a power arm, going mid-90s with his fastball while occasionally mixing in a slider or change. He throws his fastball even more often than Rosenthal, around 85 percent of the time. And, though in much more limited action, he's been even more dominant. The 6-foot-5 lefty has struck out 50 guys in 38 2/3 innings with a 0.47 ERA and 0.88 WHIP, stranding 19 of the 23 runners he's inherited. He hasn't blown a late-inning lead all season, either, boasting 11 holds and zero blown saves.
And then there's Maness, the black sheep of the three because he isn't an imposing power arm. At six feet tall, 190 pounds, he's the smallest of the group. His fastball sits in the high-80s or low-90s and he only throws it around 70 percent of the time. His strikeout rate (5.1 K/9) is by far the lowest of the group. He's the control guy, though, boasting the best walk rate (just 1.9 BB/9, compared to 2.4 for Rosenthal and 4.2 for Siegrist). He's put together a 2.35 ERA and 1.27 WHIP in 61 1/3 innings of work. That WHIP isn't close to dominant, but Maness' specialty is putting out fires.
In 65 appearances, Maness has inherited 56 runners. That is, he's entered games with a total of 56 runners on base this season. Allowing those guys to score doesn't hurt a reliever's ERA, because those are charged to the previous pitcher -- but leaving them on is invaluable for the ballclub. And Maness has only allowed seven of those 56 (13 percent) to cross the plate. Among the 14 pitchers who have inherited at least 50 runners this season, only Javier Lopez of the Giants -- 57 inherited, 10.5 percent scored -- has been better than Maness.
So even if the Cardinals don't look to Mujica or John Axford in the late innings, they have the perfect combination of a three-headed monster for the late innings.
Rosenthal is a dominating power right-hander. Siegrist is a dominating power left-hander. Maness is a "put out the fire" guy with savvy and good control.
Sounds good enough to cover two to three innings to me. The trio will make it very easy for manager Mike Matheny to shorten the game in October, especially if Mujica pitches back to form and Axford parties like it's 2011.
Show Comments
Hide Comments