Yoenis Cespedes wants chance to defend Home Run Derby crown
The winner of the 2013 Home Run Derby -- A's outfielder Yoenis Cespedes -- plans on defending his title next month in Minnesota.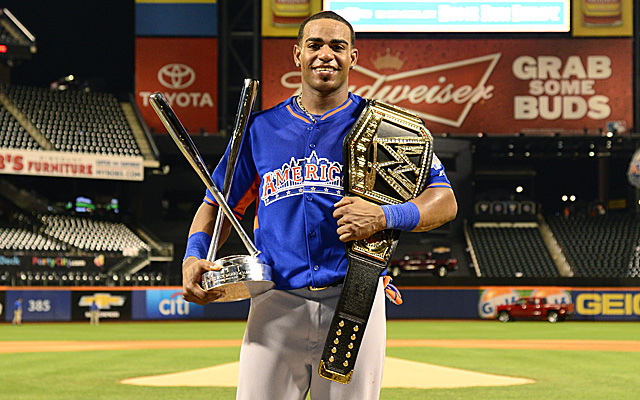 HR Derby: New Format | Abreu out | Stanton in? | Tulo, Bautista captains
Yoenis Cespedes put on a serious show in Citi Field last season for the 2013 Home Run Derby, taking home the championship trophy (and Adam Jones' WWE championship belt). The Athletics left fielder would like the chance to defend his title this season, too.
Via Susan Slusser of the San Francisco Chronicle, here was Cespedes' answer when asked if he would be participating in this year's derby:
"I want to," he said in English. "It's my choice."
The event will take place on Monday, July 14 in Minnesota's Target Field.
Defending champs haven't fared well the past few seasons.
David Ortiz won in 2010 and was bounced in the second round in 2011. Robinson Cano would go on to win the title.
The following season, Cano was completely shut out -- amidst a memorable chorus of boos for not picking Kansas City DH Billy Butler, as the event was held in K.C. Prince Fielder would get the victory.
Last season, Fielder didn't get shut out, as he hit five homers in the first round, but he also didn't make it to the second round.
The only time in history a player has won back-to-back Home Run Derby championships was when Ken Griffey Jr. won in both 1998 and 1999.
So, assuming Jose Bautista picks Cespedes, the Cuban slugger is fighting an uphill battle when it comes to history.
Show Comments
Hide Comments