Report: Magic still open for firesale on roster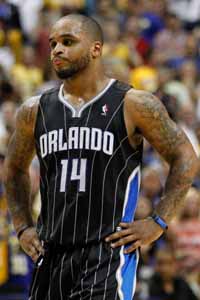 Nelson could still be moved this year. (Getty Images)
The problem with the Dwight Howard trade is that it's going to take a significant amount of time before you can responsibly judge it. It certainly doesn't seem, based on a "export vs. import" approach that they were anything but hosed on the deal. But if in a year, they have a strong young core of players and little remaining salary, what then? You have to wait and see what they did with the assets, and what they do next.
And the word is that they have every intention of trying to liquidate the remaining roster. From the Orlando Sentinel:
They are open for business to any team that is interested in the likes of holdovers Hedo Turkoglu, Jameer Nelson, J.J. Redick, Big Baby Davis and Quentin Richardson. And those players also might be looking to join a team that's not competing for lottery prizes the next few seasons.Vets Al Harrington and Josh McRoberts, who both arrived in the Dwight deal, also will be there for the asking.What do the Magic want in return to jettison any of those deals? Ideally, expiring contracts and/or draft picks.
via Schmitz' Take: Magic players on trading block – Orlando Magic BasketBlog – Orlando Sentinel.
There's not a whole lot there, and predictably there will be people who say they won't be able to move any of those players. But we've seen from several moves in the past three years that anyone is tradeable. If Gilbert Arenas can get moved, Glen Davis can get moved. Additionally, Hedo Turkoglu's contract is only partially guaranteed in the future, giving them the opportunity to unload it without trading it.
The Magic are going to be bad for several years. But if they can take the three picks they picked up in the deal, package them with any others they can sneak away and their own, they might be able to get multiple picks in the top 15. And that puts you far ahead on the plan. Just look at the Hornets. The Magic aren't ruined forever. Just for a while.
Of course, it would have helped if they hadn't just re-signed Jameer Nelson to a multi-year deal...