2013 Offseason Report: Utah Jazz
Reviewing how the Jazz entered their rebuilding phase and what it means for their young talent, including Trey Burke and Gordon Hayward.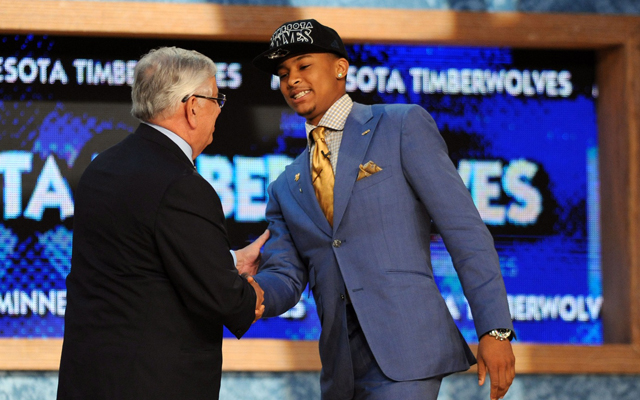 Over the next month, CBSSports.com's Eye On Basketball will take a team-by-team look at the 2013 NBA offseason. We continue with the Utah Jazz.
How they finished 2013
The Jazz were hovering around another 8th seed first-round-sweep opportunity toward the end of the season, but couldn't quite finish the surge, thank goodness. The last thing the Jazz needed was more reason to march the same path with no sense of purpose.
The Jazz had an opportunity at the trading deadline to deal Paul Millsap and Al Jefferson, both set to be free agents, and get back something of value. They elected not to, and wound up getting nothing but cap space in return. They wanted to keep their options open, but wasted the opportunity by getting nothing at the deadline. Most anything would have been preferable to losing both for nothing, especially given the steal of a deal that Millsap landed.
Their playoff absence may allow them to move forward.
Needs entering the offseason
Since they didn't re-sign Millsap or Jefferson, time for a new course of action. That means something bold and innovative to remain in playoff contention, or a true rebuilding effort based around the young talent.
They also needed to figure out their point guard rotation, and find a better long-term option, and to bolster ther wing rotation.
The draft
The Jazz hit a home run when Michigan guard Trey Burke fell to them at No. 9. Burke instantly becomes a Rookie of the Year favorite and is set to be the face of the franchise going forward. It was a flawless pick, a no-brainer so many teams manage to screw up.
The Jazz traded up with the Nuggets at No. 27 and took Rudy Gobert out of France, who plummeted down the board after flirting with the lottery. Gobert has size, some craft, some polish ... and a lot to work on. But he could wind up being a great compliment or backup to Enes Kanter. It was a well-played upside pick.
Free agency and trades
Hey, did you guys hear the 2014 draft is set to be one of the best in the last decade? Because the Jazz sure did!
Starting center and best player Al Jefferson: Not re-signed.
Mostly starting and uber-productive combo forward Paul Millsap: Not re-signed.
Starting point guard who demanded to keep his starting gig Mo Williams: Not re-signed.
The Jazz signed Ian Clark and John Lucas III. That's it.
Meanwhile, they went to the Warriors and offered to take on their garbage of Richard Jefferson and Andris Biedrins to get Brandon Rush and two first-round picks. Not bad at all.
Basically, the Jazz realized they were going nowhere fast, and decided if they were going to go through a growing pain year with their young talent in Burke, Alec Burks, Gordon Hayward, Derrick Favors and Kanter, this was the year to do it. If they're terrible, they get a great draft pick. If they're not, they have a better idea of how good they are with this group.
It's a win-win, but they're going to lose. A lot, probably.
Jefferson has almost no value, and Biedrins has even less. Rush, however, is a steal and gives them a solid upgrade over Marvin Williams at the three spot. He's a lights-out shooter with length, provided he can come back from a torn ACL suffered nearly a year ago.
Hayward will be better, coming into his prime. Favors will be hitting his pre-prime, along with Kanter. Burks has a lot to prove, and Burke will have the wheel.
For better or worse, the Jazz are building for the future. Growing up is hard sometimes.
Overall grade and accomplishments: B+
This team added bi-annual cap exception money in Jefferson and Biedrins and still got a B because they drafted well and committed to young talent. Would it have been better to get something for Millsap and Jefferson? Sure. But that was a mistake at the trade deadline, not in the offseason. And the worst thing that happened to them was being forced to really commit to their young talent, something they've needed to do for a long time.
They didn't get suckered into bringing back Williams, who could have complicated their rotation. They didn't get suckered into filling in with veterans. They are giving their guys the opportunity to succeed and accumulating picks by renting out cap space. There's a lot to like about that.
The Jazz may not be great next year, but they're sure as heck going to be interesting.
The Warriors have shown that simply putting talent together isn't enough

Hayward will be in Miami this weekend, while Utah and Boston also have meetings scheduled

Sacramento signs Serbian to 3-year, $36 million contract while passing on Ben McLemore
Free agency is around the corner, which means there could be a ton of significant moves coming...

The Knicks still intend to trade Carmelo Anthony even with Phil Jackson gone

Paul George is a college football coach at heart