Andrew Bynum receives injections to 'cushion' knees
In an effort to aid his return, Andrew Bynum got a planned injection in both knees to help take a little of the stress out of them.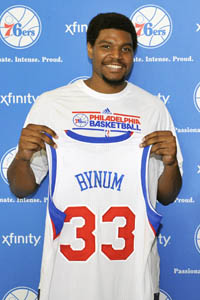 Andrew Bynum
(Getty Images)
Two words that go together like fire and smoke: Bynum and knees.
Like every other season, Andrew Bynum has struggled mightily with his knees this year, having not appeared in a game yet for the 76ers because of them. There's still no real timetable for his return, but he still intends to play this season.
And in an effort to aid that return, Bynum got a planned injection in both knees to help take a little of the stress out of them. Via CSN Philly:
The Synvisc injections, which Bynum received in both knees, are common for basketball players readying to pick up their action on the court. A Sixers' spokesman said the appointment with Dr. (David) Altchek was scheduled previously and is not a setback.
Again, key phrase: "not a setback." Still, any time you're talking about a needle going into Bynum's knees, things get a little dicey. Bynum had similar injections in his knees before the season, but his setback then was unrelated. He also had the injections at All-Star Weekend last season in Orlando, and played in the game just a few days later.
Bynum is currently practicing, a positive sign for his return. But he's still being cautious because he says he has to protect himself from himself.
"I want it to go smoothly. I don't want any setbacks," Bynum told reporters on Monday. "If I go out there [now] , I'll do something stupid."
Bynum, of course, was the centerpiece for the Sixers in the Dwight Howard trade that sent Andre Iguodala to Denver. Philadelphia hasn't been able to find its footing this season, struggling to a 19-26 record which currently has them outside of the Eastern playoffs.
But assuming Bynum does indeed make his return after the break -- and disclaimer, he's healthy -- much like what Bynum is going for with this injection, the 76ers could get a much-needed boost.
Show Comments
Hide Comments
Will Iggy stay with Golden State? Does anyone have any idea what to do with Derrick Rose?

Hoiberg was asked about Isaiah Thomas possibly carrying the ball during Game 5

Celtics point guard does not need anyone to hype up his defense
The Bulls had it, they had it ... and ... it's gone

The Bulls found they were without hot water following their Game 5 loss

Wall finished with 20 points and 14 assists in win over the Hawks