Eric Gordon still without timetable for return from knee soreness
Eric Gordon is still without timetable for return from knee injury, but his quads are at 65 percent. So that's nice.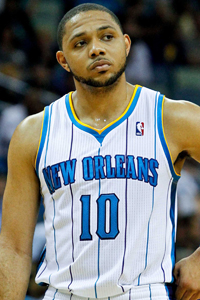 Gordon still out indefinitely.(US Presswire)
Want an update on Eric Gordon, the Hornets' franchise stud who has missed almost all of his games for New Orleans with knee injuries? Here's one: There is no update. From the New Orleans Times-Picayune: 
New Orleans Hornets shooting guard Eric Gordon is making progress in his rehabilitation work in Los Angeles to recover from a sore right knee, according to the team. Gordon was sent to Los Angeles a month ago to get more personalized rehabilitation work to help in his knee recovery and to strengthen his quad muscles.

Hornets spokesman Harold Kaufman said Thursday that Gordon's quad muscles have strengthened to 65 percent, but there remains no set timetable on his return.
via New Orleans Hornets injured guard Eric Gordon making progress in his rehabilitation work | NOLA.com.
That's a bit of misdirection there, isn't it? "Oh, his quads are 65 percent back to full strength, progress!" Except the soreness is in his knee, not his quads. Strengthening those muscles will help, but it doesn't actually reveal anything about the shape of his knee.
We're closing in on three months Gordon has been inactive since the Hornets shut him down in preseason. In that time there have been curious comments from his coach, and a disappearing act by Gordon to LA. He's not with his team as it continues to try and get back on track during a rough start, particularly without rookie sensation Anthony Davis. There's no timeline for Gordon's return, no detailed set of information about what's going on with the knee. 
In this instance, no news is bad news. Unless we get some sort of timeline on Gordon, you have to start to wonder if he'll be back at all this season. Tests haven't even revealed any structural damage. Gordon's just been in pain. 
There is nothing good about this situation at present. Not a thing. 
Show Comments
Hide Comments
Utah couldn't clinch at home, and the Clippers live another day

The Celtics coach appeared to be upset when the chants broke out

Cleveland will host Toronto on Monday
Boston will host Washington on Sunday

Nothing can happen until Cleveland's season is over, however