Kobe Bryant adamant about return to Lakers this season, not sure when
Los Angeles Lakers' star Kobe Bryant remains adamant that he will return to the team this season but he doesn't know when.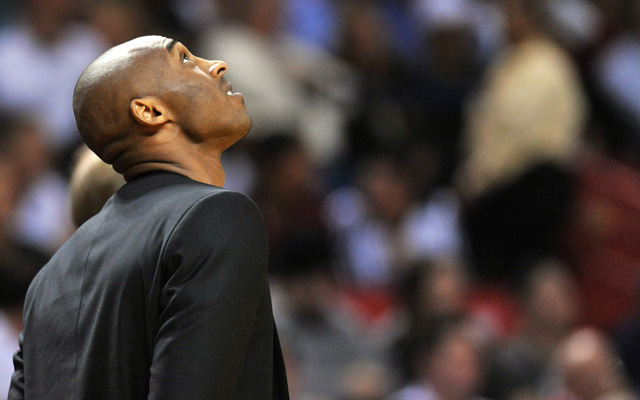 You're not going to be able to keep Kobe Bryant out of a Los Angeles Lakers uniform and that's not just because of the contract extension he received earlier this season. Bryant has been sidelined with a fracture of the lateral tibial plateau since December 17, and with the Lakers struggling to be competitive most nights, there are thoughts that he should sit out the rest of the season and be ready for next season.
That's not on Bryant's agenda. The Lakers' superstar remains adamant that he'll return to the team this season because it's his job. He's still focused on healing and doing the rehab work to try to get better and back on the court. However, he doesn't quite know when that will be because he has to wait for everything to heal and strengthen. From ESPN Los Angeles:  
"My plan hasn't changed," Bryant said Sunday at an event to promote his newest signature sneaker, the Nike Kobe 9 Elite Masterpiece. "I'm just going about it every single day just trying to get better. That's my job. My job is to get my butt back out there on the court when I'm healthy enough to play and that hasn't changed."

The 18-year veteran is scheduled to be re-evaluated after the All-Star Game next week, but wouldn't venture a guess as to when he could actually return to game action.

"That I don't know," Bryant said. "It's completely out of my control. I really got to sit here and just wait until this thing heals up and then go out there and do what I do."
While the Lakers' season is lost at this point, Bryant's résumé still has some finishing touches to put on it. He's 593 points away from passing Michael Jordan for third on the NBA's all-time scoring list. If he came back for the next game and played the rest of the season, he'd need to average just over 19 points to pass Jordan this season. He likely won't be back for a few weeks though, possibly not until the beginning of March.
He signed a two-year, $48.5 million extension that will keep him with the Lakers through at least the 2015-16 season. If he has hopes of becoming the all-time leading scorer in NBA history, not getting back on the court this season means he'd have to average over 40 points without missing a game in those two seasons to get past Kareem Abdul-Jabbar. He'll need as many games as possible this season to keep that accomplishment within realistic reach, as long as he plays past 2016. 
Show Comments
Hide Comments
It's never too early to start thinking about next year's NBA Draft

Boston took Tatum with the No. 3 pick, which they had after their trade with the 76ers

Someone in New York clearly doesn't want the Knicks to trade their prized unicorn
See who nailed it and who whiffed with our grades for every pick of the 2017 NBA Draft

Full results of all 60 picks of the 2017 NBA Draft

Highlights and lowlights, including several ways the Bulls found to lose