Kyrie Irving says he's 'all good' after scary fall vs. Ukraine
Cleveland Cavaliers guard goes down hard, has to be helped to the locker room in win over Ukraine.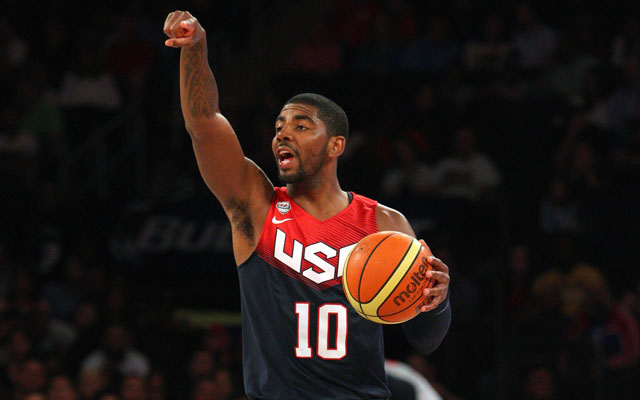 Update 2:19 p.m.: No official description of the injury has been released, but Irving tweeted to say he's fine. 
Im all good everybody, just a tough fall. Appreciate the concern #ontobarcelona

— Kyrie Irving (@KyrieIrving) September 4, 2014
Cleveland Cavaliers guard Kyrie Irving took a nasty fall in Team USA's 95-71 win over Ukraine in FIBA World Cup group play Thursday and had to be helped back to the locker room. 
A GIF of the injury via GIFd Sports: 
Irving took quite a while to get up and was eventually helped back to the locker room. 
Irving's fall is sure to revisit the questions about stars playing in the tournament after Paul George's leg injury in exhibition play. Irving scored eleven points and added six assists to help Team USA pull away from a Ukrainian team that actually lead by as many as seven in the first quarter before Team USA righted the ship. 
Show Comments
Hide Comments
The Bulls great doesn't think Jordan/LeBron comparisons are fair because their roles are so...

The lawsuit stems from McGee's time in Dallas

Hammond had served as Bucks GM since 2008
Brown has played crucial minutes for Boston guarding LeBron James in the Eastern Conference...

The Cavs have had a much tougher time in the two games the Celtics have been without Isaiah...

Jackson left Duke after one season and signed with an agent, forfeiting his option to return...