LeBron James Decision 2.0: What this means for Cavs on the floor
With LeBron James returning to the Cleveland Cavaliers means for their roster building moving forward and how the team will look on the floor.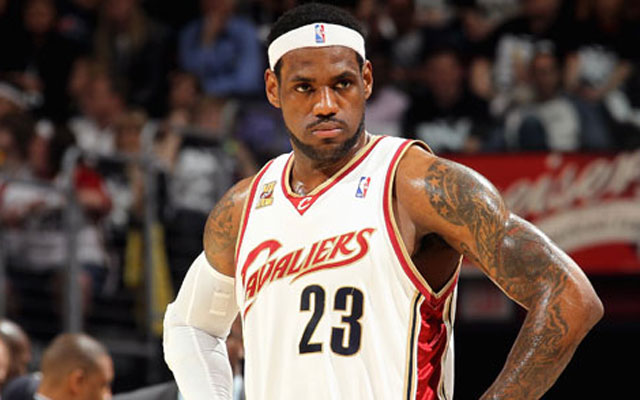 More Offseason Analysis: Coaching changes, news | Free Agency | Draft
The Decision has been made and LeBron James is returning to the Cleveland Cavaliers. After four years away from the organization, James' return home significantly changes the landscape of the league and it starts in Cleveland.
The Cavaliers have virtually gutted this roster, outside of Kyrie Irving and their recent first round picks, to have the cap space to bring in LeBron at a max contract. They have Anderson Varejao's contract as well, but the depth on this roster is very shallow as the Cavaliers begin rebuilding around LeBron. It's also expected they'll be in the hunt for Kevin Love as he tries to leave the Minnesota Timberwolves in the next year. But any move they make for him will likely include some of those young players in order to make the salaries match up.
If they don't go the Kevin Love route, it means James is comfortable building with this team, like he says in the essay told to Lee Jenkins of Sports Illustrated. It makes this quote about not promising championships very intriguing and shows his maturity toward taking time with this roster. 
I'm not promising a championship. I know how hard that is to deliver. We're not ready right now. No way. Of course, I want to win next year, but I'm realistic. It will be a long process, much longer than it was in 2010. My patience will get tested. I know that. I'm going into a situation with a young team and a new coach. I will be the old head. But I get a thrill out of bringing a group together and helping them reach a place they didn't know they could go.
Trying to figure out this roster though is a bit challenging because we're not sure of where they're headed. Is it a slow-ish rebuild with LeBron and the young guys or will they go after a third star like Love to put next to James and Irving?
If the Wolves insist on No. 1 pick Andrew Wiggins in return, Anthony Bennett and someone like Dion Waiters will also have to be included just to make the contracts match. If that's the case, the Cavs are left with Varejao, Tristan Thompson, Irving, James, Love, Brendan Haywood, Joe Harris, Carrick Felix, Scotty Hopson, and Matthew Dellavedova as players likely under contract.
Filling in the roster with veterans on minimum contracts for a year or two will work for now until the Cavs have their cap exceptions next season. And on the court, this will be a work in progress but one that could yield quick results in a weak Eastern Conference. New coach David Blatt will be the man responsible for bringing it together in practices, on the sidelines, and in huddles, but LeBron will be the one responsible for bringing it together on the court.
If the Cavs don't have Love on the team, it's a much more basic approach until they acquire better players or develop their current players into better players. Tristan Thompson didn't know what hand to shoot with up until a year ago, but his ability to crash the glass on both ends and his athleticism around the rim could be a real asset for James on dump-off passes. However, he needs to be a better post player or a better jump shooter. He's a decent midrange shooter but he'll need to be a weapon in the pick-and-pop.
Waiters will have to be more consistent as a shot-maker and he has to finish around the basket. The erratic play is fine on a team finding its way with young players, but to roll with LeBron he'll need to trust that ability to complete plays. Varejao is an invaluable role player when he's healthy but his health has to sustain throughout long seasons. Bennett has to get into shape, first and foremost, before he can start being a weapon for the Cavs. But his inside-out game does have the potential to be a great safety valve for LeBron.
The two most important components would be Wiggins and Irving. Wiggins has a learning curve in this league, but it will need to be accelerated to some degree. He has to be a consistent shooter and being able to provide perimeter defense alongside LeBron will be integral to the defensive success of a team that couldn't stop anybody last year after acquiring Luol Deng. Irving gets to learn how to be a leader to become the Dwyane Wade to LeBron in Cleveland. He doesn't get to take defensive plays off without the excuse of aging or being banged up. He has to produce on both ends, which he's capable of doing if LeBron and Blatt can harness his unreal ability.
And it's on James to bring it all together, moreso than it is on Blatt. LeBron is coming home for the leadership role and the family he can grow both on a personal and professional level. That starts on the court. On the court, there is a lot of development to be done. But like the Cavs before James rejoined them, this development is loaded with potential. It just has to be molded properly. Having the best player in the world with one of the highest on-court basketball IQs in the world is a pretty decent attempt to mold that potential.
Newest Brooklyn Net isn't concerned with his old organization's leader

The diminutive All-Star was among the league's worst defenders during the 2016-17 season

We've seen huge favorites before, but this is something else
Buddy Hield and Willy Hernangomez round out the first-team selections

Chris Paul and Patrick Beverley complete the first team

Allen Iverson is someone Tyronn Lue would want on his coaching staff