LeBron's post game is a problem the Pacers plan to fix
LeBron James did serious work on the block against the Pacers in Game 3. The Pacers are going to make sure that doesn't happen again in Game 4.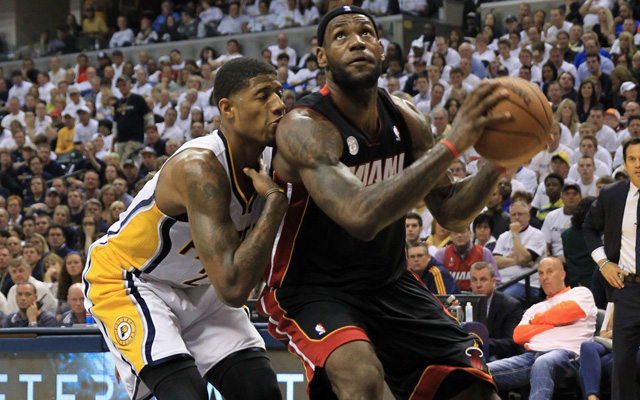 INDIANAPOLIS -- Paul George sat there, politely answering questions about LeBron James and how great his post game is for close to 10 minutes. Not once did he balk at a question or stop to point out that it's not like LeBron scored 50 points on him all on Olajuwon-esque post moves. 
Pacers coach Frank Vogel did, though.
"LeBron, I think we charted him for five baskets in the post," Vogel said. "Which is, uh, you know 10 points. How many did they score? 114. So we're not going to overreact and just bring the whole world after LeBron in the post. Our scheme of guarding their leading scorers straight up and trying to limit everybody else has been a good one for us. Obviously we don't want to give him that many or make it that easy for him in the post, so we'll make adjustments there."
Vogel's point is certainly truth. Of Miami's total output, 104 came on something other than LeBron scoring in the post. But 52 did come in the painted area, and they were able to shoot 54.5 percent from the floor, and they racked up 70 points in the first half. So there are obviously defensive issues to sort out. 
What caught everyone's attention about LeBron's post work on George was how easy it looked. LeBron caught the ball, calmly backed down with a series of dribbles, drop-stepped and went to a sweet left-handed baby hook. The way it looked, it seemed as if LeBron could've gone for 50 doing that if he wanted. 
"I can work down there all game if need be now, and that's something I probably couldn't do two or three years ago," LeBron said. 
The Pacers have a defensive scheme built around defending the man in front of you and resisting double-teams. LeBron noted after Game 3 that his post game wasn't part of the plan, but when it became apparent he was getting one-on-one isolation on the block, he was just going to sit down in the post and work. And while the Pacers aren't going to overly adjust, as Vogel said, they do want to focus on not letting LeBron have so much freedom to take his time setting himself in the post. 
"We let Paul down in the regard that LeBron was getting four, five, six dribbles and I don't think there's a guy in the NBA that you can guard if you give him that many dribbles," said David West. "So we let Paul down in that regard.
"We just can't allow [LeBron] to have five or six dribbles against one defender," West said. "We don't double, we don't trap. We rely on guys to guard their man and then send help late. We just didn't do that for some reason."
West said it. Give any guy a bunch of dribbles on the block and he's hard to stop. But LeBron isn't just any "guy in the NBA." George did stellar work on Carmelo Anthony the series previous, also a strong post player that muscles with his dribble, so how's the challenge of stopping LeBron different?
"Melo is quick, but I think LeBron has more control of his body," George said. "Whether he's off balance, he finds a way to center himself and I think that's the biggest difference between the two."
Another thing: LeBron can finish with both hands, which he did four times in Game 3. 
"He's gifted with his left hand," George said. "He's able to shoot and make plays with his left hand almost as well as his right. It's not really that [surprising]. It's pretty impressive."
The overlooked part of Game 3, though, is that it wasn't necessarily LeBron's post work that confused the Pacers, but the fact that Udonis Haslem went 8-9 from the floor for 17 points, that Chris Anderson went 4-4, that Mario Chalmers had 14. Roy Hibbert said following Game 3 their plan was to limit Miami's role players, "make sure they got nothing" and then "let their Big Three do all the work." Really, that all backfired. 
Question is if that was a result of LeBron anchoring Miami's offense in the post, or is that what opened those opportunities up? With Hibbert and West keen to watch Haslem and Anderson, fearful to help off, it created those backdown chances for LeBron on George. 
The Pacers have work to do. They know it, and while they aren't going to change their idenity or defensive philosophy from one game, it's clear the Heat might've found a little hole. 
"Our whole approach is to find ways to instill confidence and belief and today's no different than any day we've had the last couple of years," Vogel said. "We're going to emphasize the positives, we're going to show reasons to believe what they got they're not going to get in the next game and come in with confidence in Game 4."
Show Comments
Hide Comments
Utah couldn't clinch at home, and the Clippers live another day

The Celtics coach appeared to be upset when the chants broke out

Cleveland will host Toronto on Monday
Boston will host Washington on Sunday

Nothing can happen until Cleveland's season is over, however