Mike Brown says the Cavs are not trading Anderson Varejo for Omer Asik
Cavs coach says team wouldn't trade Varejo for a guy whose name he can't pronounce.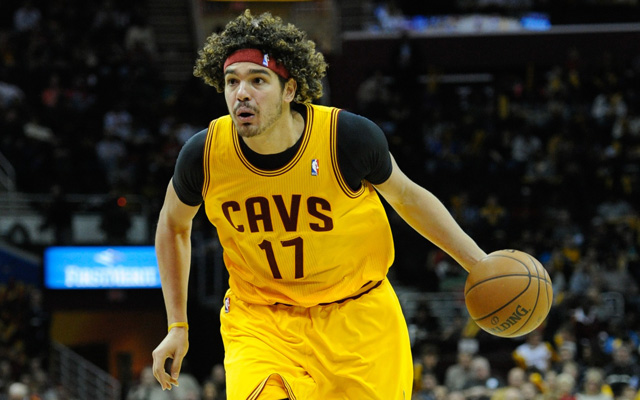 Anderson Varejao is likely not being traded for Omer Asik. (USATSI)
As the Omer Asik fest continues, several teams have come up as suitors, including the Cleveland Cavaliers. One line of thought has brougt center Anderson Varejao into the mix. But Tuesday night, coach Mike Brown shot that rumor down. 
27. And while we're on the topic of trade rumors, Brown had the line of the year when asked about the possibility of dealing Dion. Brown ran a reverse and instead acknowledged another trade rumor involving the Cavs.

28. "It's funny to hear people report that Anderson Varejao is getting traded for Omer Asik," Brown said while butchering the pronunciation of Asik's last name. "If I can't pronounce his name, you know it ain't going to happen. It's mind-boggling."

29. The Cavs have no interest in Asik, but they could still get involved if it turns into a three-team deal, which ESPN has reported multiple times it could.
via Blazers 119, Cavs 116; Jason Lloyd's final thoughts - Cleveland Cavaliers - Ohio.
Varejao has to have more value for the Cavs, and the Cavs' front office is notorious for placing obscene value on all its players. It's why they're always mentioned in trade talks but rarely do a deal... they always want something crazy for what they have. It's hard to see them moving Varejao for anything but a blue-chipper unless they were to enter a firesale at the trade deadling for some reason. 
Varejao is averaging eight points and nine rebounds on 50 percent shooting this season. 
Show Comments
Hide Comments
The Bulls had it, they had it ... and ... it's gone

The Bulls found they were without hot water following their Game 5 loss

Wall finished with 20 points and 14 assists in win over the Hawks
Durant and the Warriors swept the Trail Blazers in their first-round series

Atlanta is facing elimination, but there's a big adjustment it can make

This was a horrible play by the Bulls' guard.