Pau Gasol out Tuesday against Milwaukee Bucks
The Lakers will be without Pau Gasol on Tuesday vs. Milwaukee.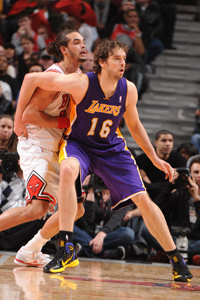 Gasol is out Tuesday.
(Getty Images)
The Lakers said Pau Gasol , who has missed the past four games with a concussion, also will miss Tuesday's game against Milwaukee. 
The NBA's concussion policy requires him to pass a series of health and cognitive tests to establish that the effects have passed. Sometimes effects linger, so no one should be surprised. The Lakers broke their six-game losing streak Sunday vs. Cleveland.
The Lakers face Milwaukee at home Tuesday and then get the Heat Thursday with Miami coming in on a road-road back-to-back. If Gasol gets back for Thursday and the Lakers can get another win Tuesday, they could enter the weekend on a legitimate win streak. 
But for Tuesday, they'll have to take care of business against a pesky frontcourt featuring Larry Sanders, John Henson, and more. 
Guess who is still on the trading block for the Timberwolves

This is the first time the NBA has held an awards show

They haven't even played a game together yet
Chris Paul, Blake Griffin and Gordon Hayward lead the pack among stars who could be on the...

The 24-year-old swingman will become an unrestricted free agent

The youngster hit Oladipo with a nutmeg during a one-on-one game at Oladipo's camp