Report: Jared Jeffries to retire, join Nuggets front office
Eleven-year NBA veteran Jared Jeffries has reportedly retired from his playing career and will accept a front office job with the Denver Nuggets.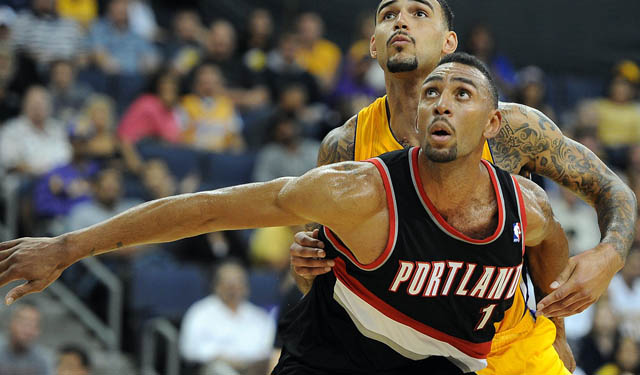 For 11 seasons in the NBA, Jared Jeffries was asked to find ways to contribute on the basketball court that didn't involve him taking shots. He needed to set screens, box out, defend multiple positions and make the extra pass if he did get the ball. Even though he was the 11th pick in the 2002 NBA Draft, expectations of him contributing as an offensive options quickly dissipated right when his career began. However, he found ways to stay in rotations by doing the dirty work.
According to Adrian Wojnarowski of Yahoo Sports, Jared Jeffries will now be asked to find ways to contribute to the front office of the Denver Nuggets as he retires from the NBA to accept a scouting role with Denver. It's unclear if he'll be asked to scout college, international, high school, or even NBA players, but he'll go from doing the dirty work to doing his due diligence in finding ways for the Nuggets to have the upper hand in that department.
Jared Jeffries, an 11-year NBA veteran, is transitioning out of his playing career and has accepted a front-office job with the Denver Nuggets, league sources told Yahoo Sports.

He will begin his post-playing career centered on a scouting role, sources said.

 Jeffries, 31, has a strong history with new Nuggets general manager Tim Connelly, who worked in the Washington front office when Jeffries played with the Wizards from 2002-06.
This is part of a front office and leadership overhaul with the Nuggets as they chose not to match the deal offered to Executive of the Year Masai Ujiri when he left to run the Toronto Raptors and then fired George Karl before the final year of his contract as he was seeking some sort of extra job security with the upheaval within the organization. The Nuggets replaced Ujiri with Tim Connelly and saw Pete D'Alessandro leave their front office to take a job running the Sacramento Kings.
Jeffries shows just how tough it is to go from being a recognized and decorated amateur player to being a household name in the NBA, something he wasn't able to accomplish. As a high school player, he was named Mr. Basketball in the state of Indiana in 2000 while competing against Zach Randolph. At the university of Indiana, Jeffries was one of the leaders of the team during his two years there, which included a run to the 2002 NCAA title game before losing out to the Maryland Terrapins. 
Even with all of that amateur success and recognition that led to him being a lottery pick in the 2002 draft, he was never really asked to contribute to an NBA team in a major capacity like we see with other lottery picks. He was strictly a role player -- a good one at that when you consider the role -- that was able to carve out more than a decade in the league by doing the dirty work. 
Show Comments
Hide Comments
The Spurs have homecourt advantage, and will host Game 1 Monday night at 9:30 p.m. ET

All-Star guard flew to Washington after Game 6 vs. Bulls to attend his sister's funeral Sa...

Some love for the Rockets over the Spurs, and at least one expert says the Cavs are going...
Ball is expected to be one of the top picks in the NBA Draft later this summer

The Bulls guard fielded questions about his future during exit interviews on Saturday

The two teammates were still up playing at 4 a.m.