Report: Rajon Rondo to miss all of preseason, some regular season
After talk of the Celtics' point guard being ready for the season opener, reports indicate he may miss the start of the 2013-2014 season.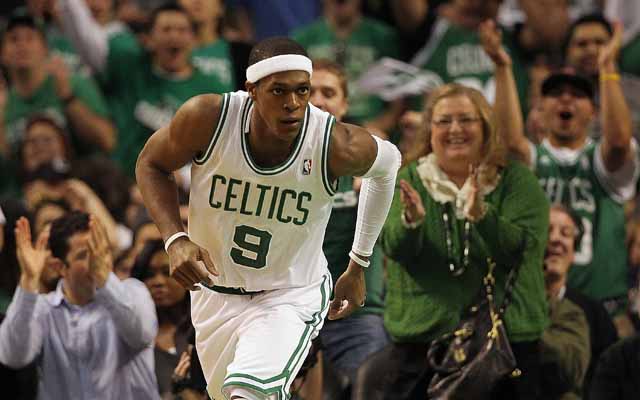 Th expectation for Celtics point guard Rajon Rondo's recovery, considering the timing and severity of his ACL tear, was that he would have a good chance at starting the season. After all, the man played on a dislocated elbow in the playoffs and the tear was considered partial. But CSN New England reports that based on Rondo's progress, sources indicate the star point guard may not be ready when the season tips off. 
Shortly after Rondo's injury, Celtics president of basketball operations Danny Ainge stated that Rondo would be back for the start of the season. While there hasn't been a delay in his recovery, Rondo's timetable looks more and more like he will miss all of the preseason as well as some regular-season games.
via Rondo improving, unlikely for start of season | Comcast SportsNet - CSNNE.com.
With the Celtics facing a rebuild, despite Danny Ainge's party line, Rondo's return shouldn't be the Celtics' primary concern. They need Rondo healthy for the long haul, be it for trade purposes or as the cornerstone of the franchise going forward. There's no reason to rush him this season. At the same time, I'm going to remain skeptical he'll miss time unil the Celtics' first game. 
Brad Stevens said earlier this week there's no timetable for Rondo's return. 
HT: Dime
Show Comments
Hide Comments
Kerr's health situation is worse than previously thought

Golden State has a 3-0 lead heading to Portland on Saturday

The playoffs are starting to heat up
Our experts predict every series in the 2017 NBA postseason

Our NBA experts predict the first round of the NBA postseason

The Warriors continue to roll without Durant