Spurs to miss Tim Duncan and Kawhi Leonard Monday, Manu for weeks
The San Antonio Spurs will play short-handed once again with Tim Duncan and Kawhi Leonard missing Monday's game against the Grizzlies. Manu Ginobili is expected to miss weeks.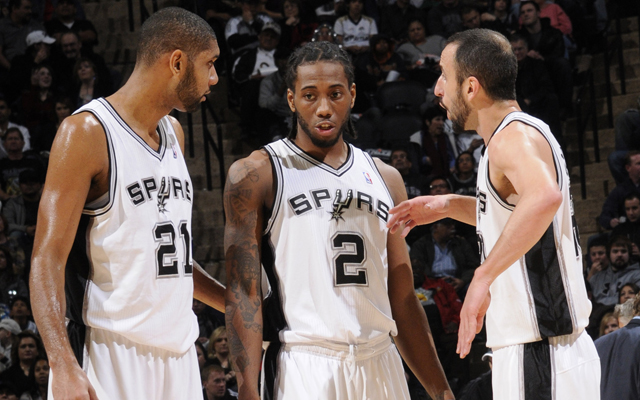 The amazing thing about the San Antonio Spurs is they find a way to compete, even when their best players aren't in the game. This is a product of Gregg Popovich's system and ability to get the most out of his role players.
If Tim Duncan has to sit down, they find a way to adjust. If Manu Ginobili isn't able to play, they rely more on Kawhi Leonard and Danny Green to fill the void. If Tony Parker is not available, Cory Joseph and Nando De Colo have been groomed to fit in nicely.
Well, they'll have to call on the role players to step up Monday night and in the future because of injuries. The team will be without the services of Kawhi Leonard and Tim Duncan against the Memphis Grizzlies on Monday night and they'll be without Manu Ginobili for quite some time, according to the organization:
The San Antonio Spurs today announced that Manu Ginobili is expected to miss three-to-four weeks with a strained right hamstring. The injury occurred during the first quarter of the Spurs vs. L.A. Clippers game on March 29.

The team also announced that Tim Duncan (sore left knee) and Kawhi Leonard (sore left knee) are both out for tonight's game at Memphis.
The Duncan-Leonard absence isn't a big deal because it's just one game, but the news about Ginobili has to be concerning. The Spurs have done quite well without a healthy Manu or a good Manu most of this season. He's still a threat the defense has to consider when making certain defensive rotations and adjustments, but he really hasn't been someone the Spurs can rely on for most of this season.
He's shooting the second lowest field goal percentage of his career at 42.6 percent, and he's having his worst scoring season based on per 36 minute numbers since 2003-04. His 35.6 percent from 3-point range isn't bad, necessarily, but it's slightly under the league average of 36 percent and much lower than the 41.3 percent he shot last season.
If he's out three weeks, then he'll be back early in the first round of the playoffs. If he's out four weeks, he might miss the first round entirely. Then he'd have to find a way to get back into game shape while not hurting the Spurs. It's something that's entirely possible for him to do because he is a very talented player, but the Spurs will have to adjust their attack and give more playmaking duties to other players on the roster.
Show Comments
Hide Comments
Our Latest Stories
Money was a big reason why the Kings decided to trade Cousins

A gamer tried to replicate the Cousins trade on 'NBA 2K17' and got rejected

A roundup of the latest talk as the trade deadline approaches
A look at the various players and entities affected by the post-All-Star-Game blockbuster...

Nobody on the internet thought the Kings won this trade

New Orleans just landed itself in the thick of a very select group of NBA contenders